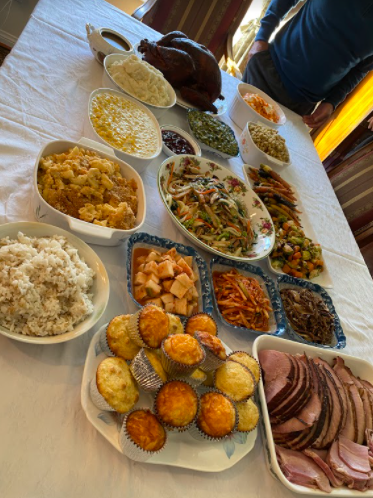 Emma Utterback
Thanksgiving is an important holiday that is celebrated by almost everyone in many different ways and have their own ways of spending it with their loved ones. 
Thanksgiving does not only involve having turkey and big feasts with the families but also a grateful acknowledgement of benefits or the favors that each individual receives. 
Each student has different traditions every year and plans during the week off for Thanksgiving and most of them tend to be involved around friends and family. "A tradition that me and my family do on Thanksgiving is that we always invite family over to talk, eat, and have fun. We also go to Palm Springs and stay at a house there to hangout," said sophomore Emma Utterback. Students like Utterback like to spend their time somewhere other than their house during Thanksgiving time and like to travel more often. 
Not everyone spends their Thanksgiving outside of their houses, but some do prefer to stay home and make delicious foods together. Much of the quality time is also mainly spent together and doing activities with the family. "Something special that my family loves to eat and prepare at home is definitely mostaccioli," says sophomore Adrianna Kera. Kera's tradition in her household is making delicious mostaccioli differing from Utterback's but both involve the family bonds. 
Thanksgiving mostly seems to be eating and having different varieties of tasty foods but some also seem to include other activities with the family. One being that, "My family's tradition is that we eat too much unless my uncles watch football and argue which team should win," said Math teacher and Sideline Spirit Cheer Coach Stephanie Allen. Football seems to also be a sport that is involved in people's Thanksgiving just like how Allen incorporated it in her tradition. 
After all of the unique traditions each student has in their family, it shows clearly the similarities and the differences between each student and teacher's Thanksgiving. The contrasting interests and types of food that each culture has during Thanksgiving shows how each and everyone spends it in their own ways. "I think that Thanksgiving is just a really great holiday to sit down with the family and just appreciate them for what they do for me but of course for all of the great foods on the table," said Adrianna Kera.