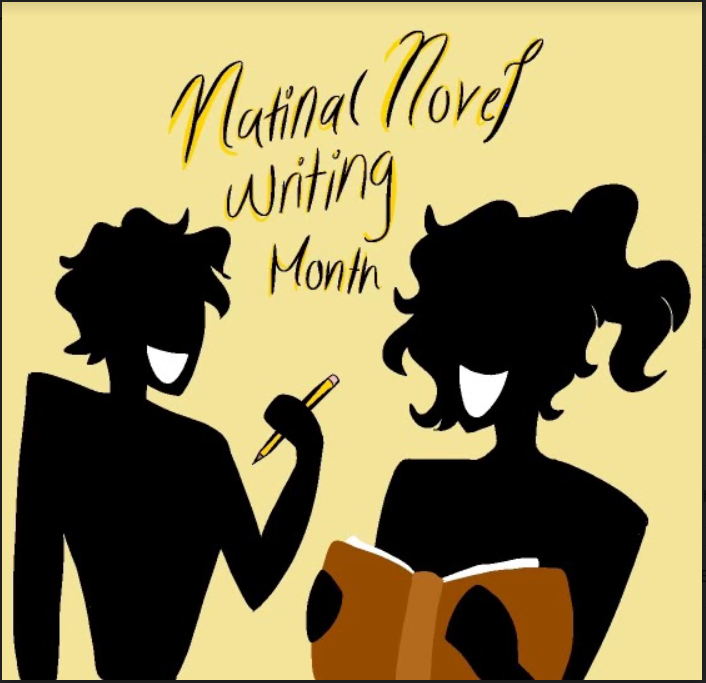 Naomi Lopez
Books and stories have kept people entertained for decades, even centuries. Therefore, the month of November is dedicated to all the writers who've decided to take on the challenge of writing their stories and getting the recognition they deserve.
The bigger picture of National Novel Writing Month has already been shown, but there are tons of smaller writers out there who are waiting for their moment of recognition. Some are ready to share their writing with the world, and others aren't. 
"I write so I can express myself. I'm working on a small romance story right now, but nothing really that big. I like mostly short stories," says romance writer Melanie Garcia (12), "But I hate the process. I just wanna have my ideas out but it's difficult to articulate my thoughts sometimes. But I like seeing other authors and the ideas they come up with, it gives a lot of inspiration." she says. 
For some, it's more difficult to get the ideas out onto a page. Garcia is one of many writers who experience what the writing community calls "writer's block," but it's wonderful that she manages to find sources of inspiration through National Novel Writing Month.
"I love writing because it allows me to create things and feel in control of the stuff I do, but I dislike it because sometimes I'm too much of a perfectionist and nothing turns out good enough," fantasy writer Kelly Headley (12) said. "I think having a month for novel writing is great because it allows novelists to show appreciation for each other and the hard work they put into their stories, and it can also serve as an inspiration month for novelists to get ideas from others."
Once again, these two writers can agree that inspiration is key to being a successful writer. It's wonderful to hear about how writers tend to gather ideas from each other in order to form a better community and gain more confidence in their stories. Although it seems like the writing process can be a struggle for young writers, the presence of National Novel Writing Month can serve to be some help with that.
"I don't know if I'd really go out of my way to read many things just because it's a novelist celebratory month." Headley says. "I think the celebration is more important in terms of keeping writers writing, rather than to keep readers reading." 
Teen writers, or younger writers, still have a long way to go in terms of getting their stories published and read by people all around the world. But by keeping a positive outlook in the writing community, these writers will be well on their way to successful futures!