Ayala Dance bring the "time of my life" with spring dance concert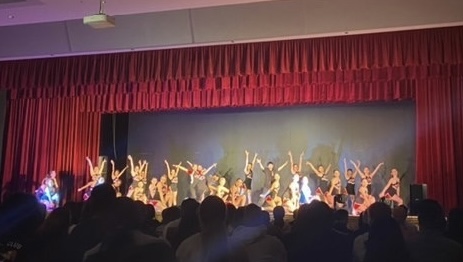 The awe-inspiring and truly sensational 2022 Ayala Dance spring concert occurred on April 28th and 29th in the multi-purpose room (MPR), its theme being "TIME." Sticking to the theme, dances reminiscent of different decades were performed.
Dance teacher Christina Hofstetter allowed all of her students to perform in the concert, showcasing the dances her and her students have been working hard on all throughout the school year.
"It was an absolute blast. It really made me decide that I wanted to continue dancing the next couple of years," said sophomore and intermediate dancer Josephine Liu, who is a newcomer to the dance program.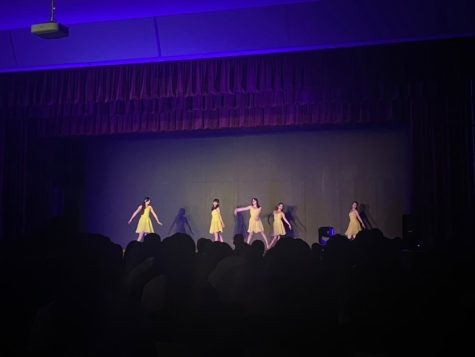 Dancers have worked incredibly hard to ensure the success of this year's spring concert, as due to COVID-19 protocols, last year's concert was canceled. As a result of current COVID-19 protocols, both the fall and spring concerts for the 2021-2022 school year have been minimized to 2 days, instead of performing throughout the entire week.
This year's concert offered a fabulous array of dances. The concert began with "Don't Stop," a fabulous number done by Ayala Dance Production (ADP). ADP also performed a plethora of dances, varying from smooth and jazzy pieces to sharp, hip-hop influenced pieces, all of which were performed exquisitely.
"It's hard trying to choose just one dance but one of my favorite pieces was 'Valerie,'" said sophomore and ADP dancer Makayla Gonzalez. "Choreographed by Taylor Martinez and Isabella Liang, 'Valerie' is a jazz piece and I love how flirty and cute the movements were."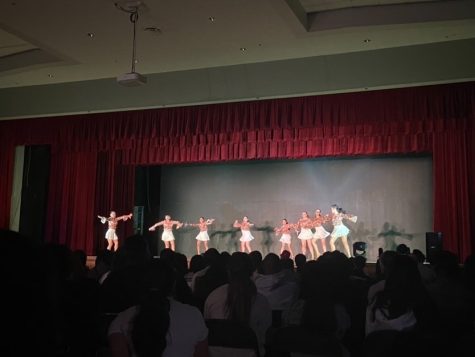 Advanced dance truly showed off their moves in a variety of hip-hop influenced performances. "Descendants," a piece that danced to songs from the Disney Descendants franchise, was filled with energy. "Incredigirls" featured an array of several formations, and the audience could feel the energy emitting from the dancers.
The Chinese Club also got to perform a piece, inspired by traditional Chinese dance. Sporting beautiful outfits and dancing to a mesmerizing song, the Chinese Club certainly stole the hearts of many through their dancing.
"I introduced Chinese Club to Hofstetter, and she was nice enough to give us an opportunity to perform," said freshman Joy Zhu. "Chinese Club will definitely perform again in future dance concerts because we had so much fun!"
Most of the intermediate dancers got to experience their very first dance concert and tapped to an acapella rendition of Michael Jackson's "Beat It."
Towards the end of the concert, intermediate came back strong, dancing to the song "Time of My Life." The dance, which was a stressful dance to learn for intermediate students, was ultimately successful in its performance, thanks to the classes dance captains: senior Asha Longsworth, junior Jasmine Nakoud, and freshman Joy Zhu.
"As a dance captain, I had a hard time being confident in my leadership skills," said Longsworth. "I kept in mind that I wouldn't be in the position of a dance captain if I had poor leadership skills, so obviously I was doing something right."
"It was so fun and energetic! All the girls really loved the moves and so did I," said freshman and intermediate dance member Jaclyn Galindo.
Beginning dance, whom for all was their very first concert, exceeded in their performances, performing to very different pieces. "Telephone" had more of a hip hop influence and was high in energy. "Easy on Me" was more of a contemporary dance with slower, freer movement.
Final bows were quite emotional for the dancers, especially for seniors, as it would be the very last concert that they would be able to take part in at Ayala. Bows ended with seniors from ADP holding up signs, displaying which school each dancer would be headed to next.
Friday night's concert ended with Mrs. Hofstetter giving thanks to everyone involved with making the dance concert possible. To the surprise of many, Hofstetter invited students a part of costume crew, good vibes committee, and the class dance captains up on stage, personally thanking them and handing them a rose as a sign of appreciation.
"Being a member of costume crew and being honored for it was something I didn't expect," said Galindo. "It was so fun to be up there cheering on the other girls as well."
Finally, seniors who had been a part of the dance program for at least two years were called to the front of the stage. Hofstetter congratulated each senior, asking them which college they were planning on attending.
"As a senior, it was sort of bittersweet to be honored at the end of spring concert," said Longsworth. "I will miss my fellow dancers and Mrs. Hofstetter tremendously."
Overall, the 2022 spring dance concert had a great mix of both energetic and slow dances, captivating all who attended the concert. Although emotional and bittersweet at times, the concert was able to maintain a fun, positive, and overall splendid time for both dancer and the audience alike.