Mr. Robleto transforms bare walls into dazzling murals
As he stands before the great wall looming over him, raising his airbrush prepared to paint strokes, he begins elegant strokes onto the vast wall. Line by line, stroke by stroke, color by color, a beautiful image begins to form, the colors blending effortlessly together. Art teacher Sergio Robleto creates a stunning art piece on the dull wall provided before him. 
Mr. Robleto is one of the art teachers present at Ayala High School and outside of school a professional artist. His love for art originated from household belongings and inspiration from his family members, like his mother and brother. He would watch his brother delicately draw and his mother sculpt which sparked the artistic fire within him. 
"I think the love [of art] comes from seeing. Just being exposed to art awakened [me]. Being able to stare at some paintings in the house or watching my brother draw," said Robleto.
His love and passion for art blossomed as years passed and he now specializes in a situational style of art, although his style varies from time to time. Depending on the environment and "context" of the situation he is in, he creates art based on these components. 
"I do a lot of work professionally, but most people don't know who I am because I am kind of a chameleon. I keep changing," said Robleto.
Mr. Robleto varies his style to create multiple beautiful pieces of art. When he is not out making his own artwork, he can also be found at Ayala teaching art classes to the students. His inspiration for becoming an art teacher would originate from coaching, which led him to want to mentor younger individuals. 
Professionally he has done over 100 murals in Southern California and has about over 1,000 sketches and drawings he is working on. Recently he finished an exquisite mural in El Monte for Hispanic Heritage Month. It features three individuals, all a part of a family, playing instruments and dressed in clothing with Alebrije patterns. Mr. Robleto has numerous other pieces of art posted on his Instagram page that feature many individuals much like the Hispanic mural he created.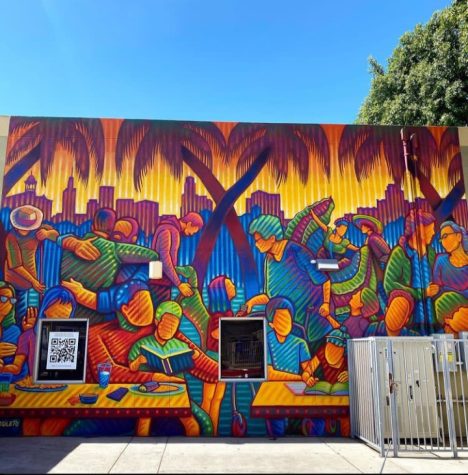 Although he enjoys his artwork, he feels that he should push the boundaries of his creations more. In other words, he feels that he should take more risks while creating enticing artwork. For most of his art career and growing up, he tried to be appropriate and stick to a time and place. He believes that due to this obstacle, it has "hindered" fresh, new art. Therefore, working on being more courageous and daring when it comes to art is important to him.
Aside from his art, he also enjoys spending time with family and friends, playing guitar, and even making music. The type of music that he has created varies from electronic, ambient, and alternative. Other than these interests, he can be found mostly producing art. If one is interested in checking out his art, go visit his Instagram page.
For those interested in art a little advice from Mr. Robleto, "Do your best to be automatic. Listen to your intuition without fear and don't care what other people think. If you do that you'll tap into your artistic DNA."