Jake Hirose: From Plastic Clubs to a Successful Athlete
From plastic clubs, to gleaming medals, this skilled golfer has paved an incredible path during his golf journey, made important friendships through the sport, and plans to grow his passion for the game.
Jake Hirose (9) is an avid golfer and the only freshman on Ayala's varsity boys golf team. Through his dedication to the sport and his well-developed, solid technique, he has made many achievements throughout his golf career and is on the path to reach more. 
Starting from a young age, Hirose was initially motivated by his father, a golf instructor, to pursue the sport. He began practicing with a set of plastic clubs, being too small to handle a real set, and eventually fell in love with the rigorous game of golf.
"I always wanted to bring my clubs and use them. I don't remember too well, but I think I wanted to continue golfing because I liked hitting the golf ball into the hole," Hirose recalled.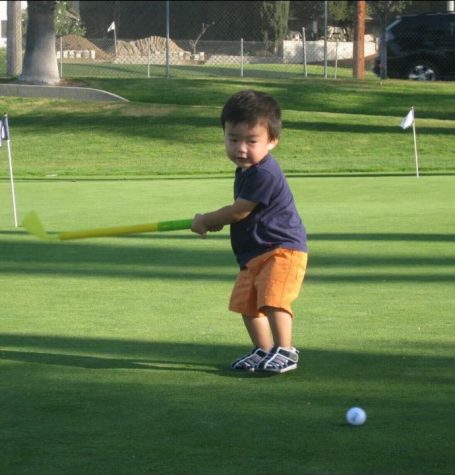 Golf is a game of never-ending practice, and requires a true joy for the sport to excel in it. Hirose finds that through the friendships gained with the fellow golfers he plays with. Using a healthy sense of competition with those friends helps him to enjoy his time playing while improving in his course management, ball-striking, short-game, and other skills. 
Yet, his favorite aspect of the technical game lies in the feeling he gets when playing well. 
Hirose expressed, "My favorite part about golf is when I play well with no regrets. The feeling you get after an amazing round is just so good. I also love the feeling of hitting a super solid shot or sinking a clutch or long putt."
In the span of his golfing career, Hirose has won and competed in various tournaments, adding many golf achievements to his list of accomplishments. These include, winning several USKids Local Tours, Qualifying for the 2019 USKIds Worlds Championships, playing in numerous USKids regional tournaments, reaching the Professional Golfers' Association Junior League regionals, and winning the 2022 USKids Western Cup. He plans to compete in many more larger tournaments in the future. On top of his competitive successes, Hirose also shot his personal record two strokes under eighteen holes, a feat not many golfers have the chance to reach.
Hirose's achievements were possible through the development of his game throughout the years. "I have grown over the years to become a golfer and a person who can get serious at times but also play around at times. I have also learned to control my emotions and mentality from golf," he explained.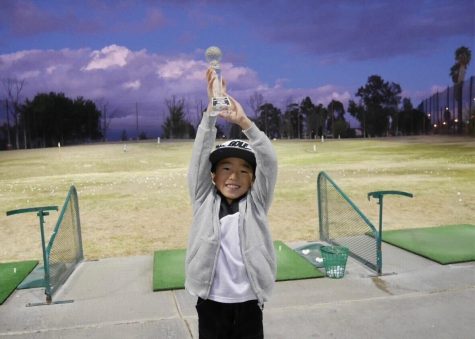 As a result of his various achievements, Hirose's skillset and positive attitude are evident to his competitors. Unanimously agreed on by many of his golf friends, Hirose is not only a great golfer, but an even better person.
Jack Patterson (9) said, "He has a positive attitude [and] his short game is accurate. I have fun practicing with him, and [he is] a good guy who will be successful in the future!"
Through Hirose's tournaments, he has also had the opportunity to meet athletes and friends who are similarly invested in the sport. Through these friendships, one of the most important aspects of golf, which are the memories, were made. 
Kyle Pitaknarongphorn (9), Hirose's good friend, expressed a memorable time on the golf course: "When he and I went to the Western Cup, a team golf tournament near Las Vegas, the weather was very cold and dry. Despite the weather conditions, Jake put out great efforts in the tournament and persevered, even after we accidentally broke his club in half beforehand!"
As Hirose plans to continue his golf journey throughout highschool and perhaps pursue a golf-related career in the future, he leaves fellow athletes with a strong piece of advice: "Never give up. Even if you're playing terribly, just keep looking forward and forget about the past. Only focus on your next shot, and commit. Believe in yourself. Don't be scared. Just be confident."