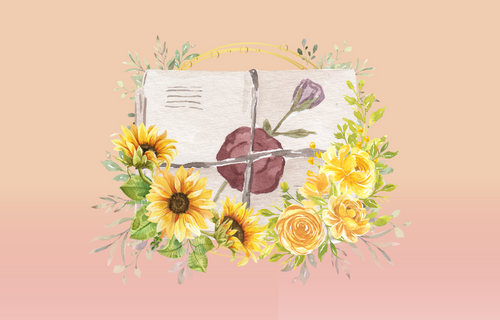 [Valentines' Writers Comp 2023] Flowers for You
I confessed, yes.
Even I, myself, couldn't believe it.
Words slipped out of my mouth and said everything that I had to say in just a minute.
Words that I 've never said anything to anyone before,
Words that I couldn't take back, no more. 
This was the very first time that I have my spotlight not as a Disney character,
Something that doesn't guarantee happily ever after.
Is this the start of a new chapter?
"Our friendship is relatively young,"
Yes, the story has just begun. 
At first, it was just a yellow rose, then it became dandelions full of hope.
But we still chose to keep that yellow rose;
I'll take it, than rejecting me as an answer;
Don't get me wrong, I love the rose that we have for each other
After all, who knows what will happen once we get to know one another?
How do I look?
Do I look like the character that he reads in his books?
How should I act? 
Should I be careless or should I show grace when I dance?
Do I? Should I? Must I? 
Why even bother, when all we do is make eye contact whenever we walk past each other.
At this point, should looks matter?
Should I take one step further?
"Good morning," "Take care," "Good night"
And in just one, dry reply, you still make me smile
Just to be clear, I'm not expecting anything;
Yes, we are friends, good thing we're not pretending.
Thank God! I didn't want our friendship to rot;
But deep inside, I won't even try to deny, my heart says I'm willing to give all I've got.
Do I keep surprising you?
Do you see me stand out even when all these flowers bloom?
Please don't tell a lie, only tell me what is true.
People say, "Everything happens for a reason"
Should there be a reason why you sat next to me in the third period?
Not only that, those 30 minutes of my life went by so fast, we walked and talked to class.
I always see you around, but how come whenever I see you smile,
It feels like I'm going to drown?
By looking in your eyes,
Is it like being mesmerized for the first time?
Is it alright for me to wonder if the feelings would be mutual if I have enough time?
Soon, I won't be there;
I don't know if you truly care.
They say time is always not enough; Yes, I see that now.
Just so you know, I'll always keep our yellow rose
Even when it's dying, there's tons of dandelions wherever I go.
This is not a farewell and it never will,
Wherever I go, I'll bring a blank piece of paper and pencil,
For I love to please you still
Who cares about happily ever after? All I ever want is to hear your laughter
When our eyes met, it was the beginning of a new chapter
Do my poems tell you more about me than just talking to you casually?
I took one step further and now I'm worried; Dandelions may turn to sunflowers
Should I be? I mean, all I have is these flowers; do you see it?
I'm running out of time and I didn't ask you to be my valentine
It's okay if can't call you mine, I'd rather take that than having a finish line
Because I value the flowers, these beautiful flowers…