Spider-Man No Way Home: Sinisterly Ambitious
The upcoming installment to the Marvel Cinematic Universe's Spider-man trilogy Spider-man: No Way Home, is perhaps the most anticipated film of the year, arriving to theaters December 17th.
The first teaser, which is currently sitting at 79 million views on YouTube, was a surprise to Marvel fans, as there was no prior announcement for the upcoming film.
"I always stay on top of release dates for trailers and there was no warning for this one, so I was very surprised when it came out," said math teacher Jennifer Simental.
Peter Parker, the web slinging superhero portrayed by Tom Holland, returns and is facing deep conflict now that his identity as Spider-man has been revealed to the world. Seeking help from Doctor Strange, Parker hopes to take care of his problem, but as always, chaos ensues, and the hero now has to face off against powerful foes from across the multiverse.
"I am most excited to see how the multiverse comes into play. After watching Loki [a television series on Disney+], I feel like they haven't shown much about how it will impact the larger MCU," said Simental.
Spider-man: No Way Home is special, in that its antagonists are characters that many have already seen before on screen in Sam Raimi and Marc Webb's Spider-man movies, such as Doctor Otto Octavius, the Green Goblin, Electro, Sandman, and the Lizard. These villains, along with one unknown villain, make up the MCU's version of the Sinister Six, a group of villains that Spider-man must routinely face off against in the comics.
"I think seeing Jamie Foxx return as Max [Electro] is beautiful," said sophomore Raymond Obana. "He even got a nice glow-up costume wise!"
Audiences are more than excited to watch the new film. In fact, the film also has achieved success in ticket pre-sales and is expected to have a monstrously huge opening weekend box office, perhaps even surpassing Avengers: Endgame, which debuted with $357 million. Many websites and ticket purchasing applications such as AMC and Fandango crashed the second Spider-man: No Way Home tickets went on sale, many in fear that they would not be able to watch the long anticipated film opening week.
"It has never been that bad to get tickets, not even for [Avengers] Infinity War or Endgame," said Simental.
Although some struggled to purchase tickets, others found the process less challenging.
"It was easy. I just went to the website a day later and chose a seat," said sophomore Santino Thomas Cruz.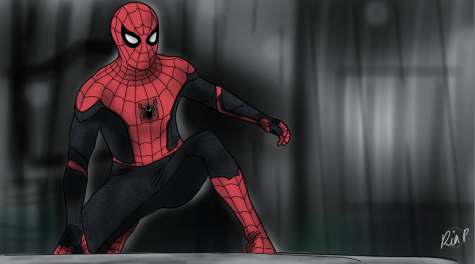 This portion of the article contains information about the Spider-man: No Way Home leaks, be warned when reading beyond this point.
With the reveal of the Sinister Six, as well as the multiverse being discussed in the film, many theorized that the villains were not the only Marvel characters arriving to the MCU. A large majority of people believe that Tobey Maguire and Andrew Garfield will reprise their roles as Spider-man from Raimi and Webb's films respectively.
Some even theorize that Charlie Cox will cameo as Matt Murdock, AKA Daredevil, as MCU Parker's defense attorney. Leaks that have surfaced on the internet of the three actors on set have left many in anticipation for the film, having the chance to see their favorite characters on screen once again.
"Daredevil has history with Spider-man in the comics," said Obana, "so it wouldn't seem too far-fetched to introduce him here."
With so much hype surrounding Spider-man: No Way Home, rest assured that the film will achieve much success financially. With the larger than life cast of characters, as well as potential cameos that will make any Marvel fan absolutely overjoyed, Spider-man: No Way Home is definitely the most ambitious Spider-man movie that Sony and Marvel has ever created.
"It seems like it will crossover with a lot of franchises and universes," said Simental, "I am a bit nervous that it will be another WandaVision/Quicksilver situation, but I am feeling optimistic!"