Artist Spotlight: Vivian Zuniga
Kim Flores, Historian, Staff Writer
October 7, 2022
Vivian Zuniga, a young mom with 2 beautiful baby girls and a happy newlywed. With 9 years in the beauty industry, Vivian hopes to grow her career into something much more extraordinary.
Zuniga started to become interested in makeup in her middle school years, as she recalls taking makeup to school and removing it before she would get home. From there she knew she had to pursue a career in the beauty industry, because she felt as if it was destined for her. This dream wasn't very hard for Zuniga to achieve, and at the age of 16 she was hired as a model for a makeup agency. Zuniga was able to take some classes and continued to grow from there.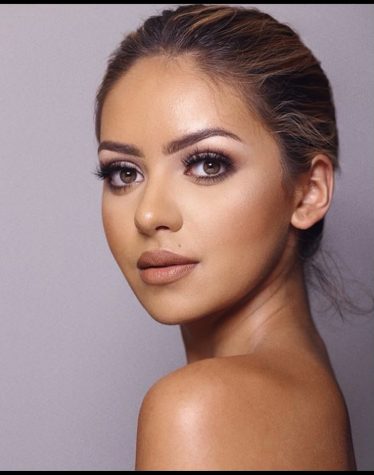 Not too long after taking classes, she became a certified makeup artist. Being certified gave her that boost of confidence to start taking in clients. Taking baby steps she would practice makeup looks on herself, as well as some family. Vivian also decided to start a YouTube channel to promote her work, and to gain clientele. People loved her videos, but YouTube didn't last long, times started changing and the viewers wanted different videos. 
"People nowadays don't really watch tutorials, right now the trend is blogging," Said Zuniga. 
Although she wasn't successful on YouTube, she still decided to stick with makeup. Over the years her work became recognized and she gained lots of clients. Zuniga would attend quinceañeras, weddings, and other special occasions. Zuniga hopes to eventually open her own studio and make herself known, along with her makeup team.
"I want to build my own team that way for future clientele, if it is that it's more clientele that I can handle, I would want to build the team that way I could kind of send out artists that are trained under me," Zuniga said.
Zuniga wants to be able to have a team she can trust to do a good performance on her clients. Not only does she want to beautify her clients, but she also wants to teach them the art of being able to handle different brushes and products. There are many steps to prepping the skin and knowing the different skin types.
 There's so much to accomplish with makeup, and there's no such thing as mistakes when it comes to applying makeup because it is an art.
"If you love makeup and if you feel like it's something you want to do with your life as your career, do it," said Zuniga. "There are plenty of events every single weekend, if not every day, where people need makeup artists and it's something that's always needed."
The job as a beauty guru isn't all just about doing someone's makeup and getting paid, it's about making connections with people and making the clients feel at ease. Zuniga always wants to have all her clients trust them knowing that they are going to look beautiful for their special moment ahead of them is a good feeling for them and for herself.
"It's a very rewarding experience and it's a lot of fun, a lot of fun and kind of just living your best life doing it," Zuniga said.