Artist Spotlight: Hailee Walker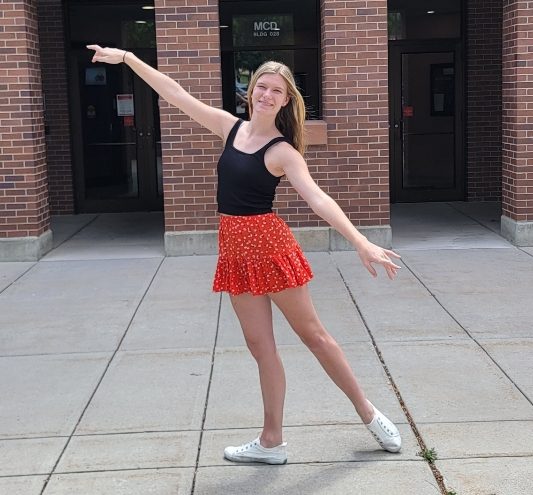 Dancing since she was three years old, the dance studio is Hailee Walker's (12) second home. She has rehearsed and practiced this ballet for the past two months, and today as she stands, in the front row, center stage, ready to spare her efforts for this performance at Ballet West.
For all four years of high school, dance has always been on Walker's schedule. Ever since she has stepped foot into a dance studio, Walker has never stopped reaching for higher terpsichorean pursuits; now Walker is a significant member of Ayala's Dance Program, also known as ADP, and one of the most skilled dancers on campus. 
Walker didn't just know right off the bat that she was such a natural for dance. Like many other people, Walker was encouraged by her parents to go into sports. She's tried softball, volleyball, and many other sports, but none of them seemed to call out to her.
"I did lots of other things and I just wasn't good at. Dancing [was the only thing that] I felt was enjoyable. I think I'm pretty good at it," said Walker. 
The best performance Walker has put on, was no doubt her performance at Ballet West. Walker was amongst the 90 dancers in the world that were invited to their summer intensive program. There, Walker and the other dancers learned, rehearsed, staged, and performed an entire ballet on Sleeping Beauty in just two weeks. 
"The directors of Ballet West came down and they were watching and it was the most interesting thing I've ever experienced because these people are like the Kobe Bryants of the [basketball] world, and we got to dance for them," Walker said. 
What made her experience at Ballet West even more extraordinary is that the girl, who was normally placed towards the back or corners of the stage, was now given one of the most prominent positions on stage. 
"Ballet West is known for its tall dancers. I was one of the shorter ones, which is insane, [but] that time I was in the front, the center. It was great," said Walker.
Walker believes that the most important trait of a dancer isn't necessarily skills like flexibility or momentum, it is discipline. Walker believes that without discipline, one can never improve, never achieve, and never make dreams into reality– whether you are an actor or dancer or pursuing any other activities.  
Walker said, "If you're the person in the back and the girl up front goes out, and the director asks, who knows [the choreography]? You could raise your hand, you can say, I know it. I was practicing. I was paying attention and that could be your moment, because dance is very subjective."
When Walker is not dancing, she loves to read. Books from all genres capture her curiosity and before you know it, Walker has long flipped open the cover and is probably half way through the book. Due to Walker's constant exposure and influence from several forms of expressive art, Walker's interests for drama have been slowly arousing as they unconsciously guided her onto the paths of acting.                                                                                                                        
This year is Walker's first attempt at drama. Without having any prior experience in theater, Walker took her first steps under the encouragement of Mrs. Sherratt, the school's new drama director. 
"Mrs. Sherratt replaced Mr. Keaney," said Walker, "and then she was just telling people, 'I'm going to be the theater teacher.'  So, I auditioned with her and now I am here."
Since Walker has passed the auditions and joined the Performance and Production class, her enthusiasm for drama has been steadily increasing day by day. Not long ago, Ayala Theatre Company hosted auditions for all students to tryout for roles in the classic murder mystery, Clue. With her thorough analysis and understanding for the character and outstanding acting skills, Walker, out of the 60+ contestants that came to the auditions, was casted as Mr. Green. For someone who has never been in theater before, it is indeed impressive. 
Clue rehearsals are now in progress and Walker is confident that the chemistry created between the casts will give the audience a night to remember. 
"We are hilarious. Audiences will enjoy it, for sure," said Walker.