[Opinion] The ultimate sandwich debate: Jersey Mike's or Subway?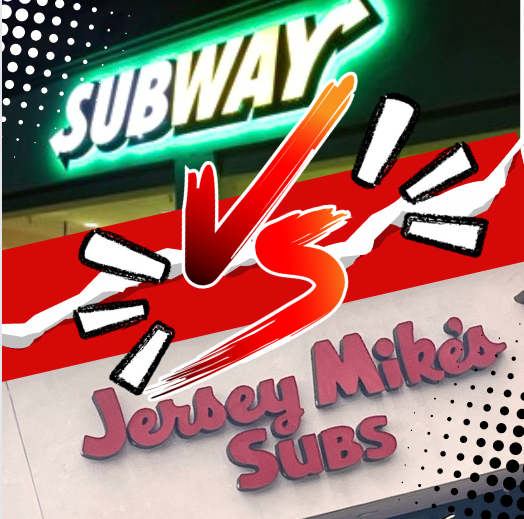 When we think of food within our city (Chino/Chino Hills), we don't usually think of which sandwich shop is better. Thinking of the best sandwiches isn't a common thought that flows through our minds, or something that we really consider, but it only raises the question: who sells better sandwiches? Subway, the veteran of the two, has been making sandwiches for this city for as long as I can remember, whilst Jersey Mike's, the more local one to Ayala, has been around and serving sandwiches to students who make the trek. It is a tough one, but it all comes down to location, price, taste, and overall service.
How Close Are They?
Jersey Mike's: There are two Jersey Mike's within Chino/Chino Hills. The one we all know about is across the street from The Shoppes, located near It's Boba Time and Gen Korean BBQ. This one, of close proximity, feeds the cravings of many hungry students and is great to have a sit down meal at after a day of school. The other one is located a bit out of the way in Chino, but still offers great service and the same sit down experience.
Subway: There are many subways located around our city. The closest one would be located near CVS, on the west side of Ayala. Most recently, the one located near Harkins Theatres closed down and has left the space empty with customers hungry. 
Subway takes a win here, solely based on their great franchising.
Pricing of a Sandwich
Jersey Mike's: Price, of course, will vary depending on what sandwich you get and what is inside each one. Average prices of Jersey Mike's subs can range at average of $8.00 for a regular and $12.00 for a giant. Most sandwich goers would probably prefer regular sizes because if they were to get a combo, they would have chips and a drink to fill them up. 
Subway: When comparing prices, Subway has an easy win. The average price for a 6-inch is about $5.00, whilst a foot-long can easily be about $8.00, depending on the sandwich. This beats Jersey Mike's big option by a whopping $4.00! 
To save a few bucks, Subway, in this case, would be the best choice. 
How Good is Each Sandwich? (Based Upon Yelp Reviews)
Jersey Mike's: Based on their Yelp page, Jersey Mike's is a 4 star overall. Many of their 5 stars revolve around their taste, appearance, and size. Out of a total of 114 reviews, about 55% of their reviews are 5 stars that applaud the amazing taste of their sandwiches. 
Subway: Based on their Yelp page, Subway is a 3 ½ star overall. There are few five star reviews with about 21% of the 61 reviews to be exact. Much was said in the five star reviews, mostly only complimenting the service overall. 
With more positive reviews based on customer taste, Jersey Mike's wins this category with more stellar tasting food.
Who Has the Better Service? (Based on Yelp Reviews)
Jersey Mike's: Customer value of Jersey Mike's subs are very positive, as many of their reviews are all told on the basis of great food and great service. At first glance, a Jersey Mike's store holds a surfers-type vibe, but once you get to the counter, you can witness the customer friendly employees make your sandwich fast and easy. Their store has also been reviewed as clean and properly managed. 
Subway: Subway was not treated kindly on reviews based upon their food, but when it came to customer care, they were spotlighted for every effort to make their customers happy. Employees are active with their customers, work hard on making their sandwiches, and are overall good establishments. The store itself can vary on location, how long the location has been open, and other factors of how modern it is. 
Choosing between the two is hard, as they are almost neck and neck of customer service, but with more to go off of, and more reviews, Jersey Mike's can take this category strictly due to how all of the available locations are clean and modern. 
Based on the 4 categories of discovering the best sandwich spot, we end on a tie. Subway 2 and Jersey Mike's 2. To break this tie, I thought I'd give my personal opinion. Out of these two sandwich competitors, I will put Jersey Mike's over Subway based on food taste and hospitality. I have always enjoyed both places, but the one closest to my heart would be Jersey Mike's. Don't let me pick for you, go out and try each place for yourself and you too can make your opinion about who serves the best sandwiches.