Best off the shelf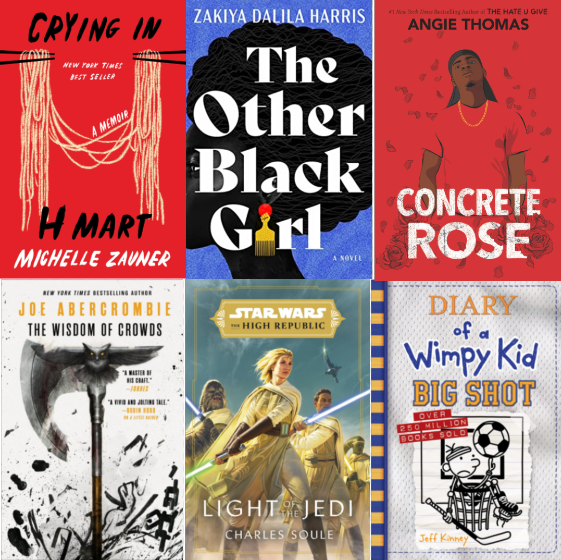 Although going outside is not the best option for anyone at the moment, even though things have slowly been returning to normal, many might find themselves enjoying a good book inside. 
This year has been a wonderful time for avid readers with all the incredible and outright heart wrenching stories that have been told. Ranging from fantasy to memoirs, there is a little bit of something for everyone. The list chosen reflects six different works from across all genres that high school students would enjoy. But for those who aren't pages deep into a book, getting into a reading habit can be difficult. 
"I think that in order to develop a love of reading one needs to start from at least being interested in the topic or genre and I think that's so unique to each person," English teacher Wei Yeh says. 
Now to add onto some reading lists, fantasy finds will get their fix from Joe Abercrombie's latest release The Wisdom of Crowds. It is the third book of the "Age of Madness" series and has received constant praise. The story follows Citizen Brock and Citizeness Savine through a strange fantasy version of the modern day, Brock wanting to become a new hero while Savine finding redemption. The Wisdom of Crowds is a longer read at 528 pages.
"If you like fantasy books, I highly recommend The First Law, grimdark and character-focused, The Greenbone Saga, family based, character-focused, mobster vibes, and A Song of Ice and Fire," Ayala senior David Gorsage said. 
For all the Star Wars fans out there, another fantasy work by Charles Soule has been released, Light of the Jedi. The story follows a group of Jedi during the height of their power, far before the Clone Wars or any of the other movies, as they deal with a new growing evil. This book is at an average length of 380 pages. But there are far more books besides fantasy. 
"I've read the diary of a wimpy kid one! And I've heard in-depth reviews of crying in H mart," Ayala senior Kelly Headley says. 
A classic for the current high school generation, receiving great reviews, Jeff Kinney has released another installment in the "Diary of the Wimpy Kid" series. Book sixteen, Diary of a Wimpy: Big Shot follows Greg as he decides to try out for the basketball team, a shorter read at 225 pages. Another great reviewed book would be Crying in H Mart by Michelle Zauner. A memoir centered around the author's life as a singer and her road to success. The book tackles her struggles being one of few Asain Americans in Eugene, Oregon and various relationships throughout her life. All while being short and sweet at 256 pages. But to find the right book, one must know their interests. 
"Like, think about what interests you, right? What drives you? What kind of movies do you watch and work from there," says Yeh. 
Some other works that may interest the young adult generation would be The Other Black Girl by Zakiya Dalila Harris. This story follows Nella Rodgers as she struggles being the only person of color in her work place, a bit of a longer read being 357 pages. Another encouraging story is by Angie Thomas and her book Concrete Rose. This is set seventeen years before Thomas' hit book The Hate You Give (another incredible book) that explores the concept of manhood. An average read at 368 pages, this is another recommended reading. Truly when one finds their genre, it can be an excellent experience, as described by Yeh.
"Like, I dropped everything to read your book by Seth Rogen. And I found myself laughing so hard. I was crying through that."