School dress code protest…a flop?
An anonymous student started an Instagram account sharing that there would be a protest held on Friday, March 18th in response to the newest announcement of the enforcement of Ayala's dress code. Many students found the dress code to be sexist and decided to do something about it. 
Assistant Principal Yvette Taylor brought this to the attention of students and their families. For the following week, the Ayala dress code account (ayala_dresscode), now deleted, posted reminders that the rally would be occurring at the center diamond during lunch. 
The word was spread quickly throughout the school and was even shared on a teacher's group chat. 
On the day before the protest, the account shared that the student who was planning on bringing posters to the rally had backed out. About an hour later, there was a poll posted trying to determine how many students would be willing to participate. As a majority of voters sided with no, it was established that the protest would still happen. 
When lunch rolled around, many faculty members came out from the administration building as security guards began to circle the area. After waiting for about 20 minutes, the diamond filled with its normal occupants. 
Just as the lunch period was coming to a close, senior Joshua Lee made his way in a maid costume and began dancing for all the school to see. 
"I was beyond embarrassed having to perform the chika dance," Lee said. It was a "punishment for getting last place in fantasy basketball. But honestly, this was well-deserved for losing out of 12 guys."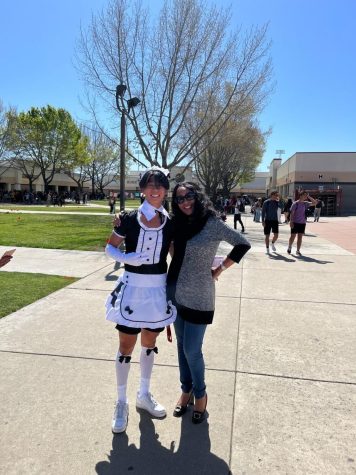 While this was an exceptionally funny moment that even led to a photo opportunity with Principal Diana Yarboi, the student body is still concerned about altering the overall dress code. 
"I usually don't abide by the dress code because I want to dress how I want to," junior Mariana Casaus said. "If I'm not showing anything private I don't see the problem with how I am dressing." 
The handbook calls for students to dress modestly, stating that an "absence of undergarments is prohibited," also sharing that the showing of bare midriffs will be penalized. 
"I don't think that we need any modifications," Assistant Principal Secretary Jill Anderson said. "I think it's appropriate for each student to dress appropriately at school." 
Even though a majority of staff agree with the current code for students to follow, many believe that it is sexist, especially against the female denomination on campus. 
"I think girls are forced to cover up more and it's for something they can't even control," said Casaus. "If girls were to wear sweatpants and hoodies, or 'boy' clothing, then there are going to be people that would make fun of them for it." 
Along with the many challenges of high school, students have continually become consumed with how they dress and how they present themselves. The trendier the style, the less likely the clothing will meet dress code standards. 
There is an ongoing struggle that students must face on the daily. And for many, risking popularity for modesty is not a chance they are willing to take. 
This might not be the end of the dress code battle on campus. 
"If we had an organized protest I would 100% join in on it," said Casaus.