True Crime Chronicles: The horrific murders of John Wayne Gacy
WARNING: This story contains graphic details depicting the crimes of John Wayne Gacy  
Born on March 17, 1942, John Wayne Gacy, also referred to as the "killer clown" was an American serial killer and sex offender who was convicted of the murders of at least 33 young men and the sexual assault of two teenage boys. He was nicknamed "The Killer Clown" due to his handmade clown costume that he referred to as his alter ego Pogo. 
Gacy would perform for children's birthday parties in a clown suit, and while there is no evidence suggesting that Gacy wore his clown costume during his killings, his costume is reminiscent of his horrifying operations. 
Before being exposed for his sadistic crimes, Gacy had been previously convicted of the sodomy of two teenage boys in 1964. He was expected to serve up to ten years but was released 18 months into his sentence. After being released, he moved to Chicago in search of a fresh start, where he married his second wife, Carol Hoff. During his time in Chicago, he founded a construction business and was revered as an avid church-goer, earning respect from his community as a devotee By 1972 Gacy had murdered his first victim, Timothy McCoy. Followed by his divorce in 1976. By 1978 he had murdered an additional 32 people. 
Gacy lured his victims into his home where he would put them in handcuffs, with the promise of demonstrating a magic trick. He would then rape and torture his victims for sadistic pleasure before murdering them either by asphyxiation or strangulation. 
Gacy's rampage lasted from 1967–1978, and it wasn't until his last victim Robert Jerome Piest that he got caught. On December 11, 1978, 15 year old Robert Piest was paying a visit to John Wayne Gacy in hopes of getting a job inGacy's construction company. However, when he never returned, his family reported him missing the same day. Piest had informed his mom that he would be speaking to a contractor to discuss a possible job opportunity, which led to the cops requesting Gacy for questioning. Gacy denied having seen Piest and claimed that he couldn't speak to the cops because of a recent death in his family.
The cops obtained their first search warrant, leading them to discover a drug store receipt that belonged to one of Robert's colleagues. During their search they discovered a disgusting stench coming from underneath the house;however authorities assumed it was from the presence of raw sewage since  the entrance to the crawlspace didn't appear tampered with. However, the second search yielded much more horrifying and incriminating results as the police found the decomposed remains of 29 of his victims buried near or underneath his home. Four more bodies, including the corpse of Robert Piest, who was sexually assaulted and suffocated as a result of paper towels  lodged forcefully into his throat, were found nearby in the Des Plaines river. Gacy's house also contained "trophies" of some of his kills, including two graduating class rings, handcuffs, police badges, clothing belonging to teenage boys, and the driver's licenses of two unidentified males. In the trunk of one of Gacy's vehicles, hair belonging to Robert Piest was found. 
The authorities began to keep Gacy under 24-hour surveillance in hopes of recovering live victims; however, they immediately arrested him after he was caught for the illegal possession of marijuana, which he intended to sell to a gas station clerk.  
During intensive questioning, it was revealed that one of the graduation class rings belonged to a missing teen who disappeared a year before. They also discovered that three of Gacy's employees had gone missing in the past five years. When evidence against him began to accumulate, Gacy had "admitted" to killing one person, though he claimed it was in self defense. He told the cops they could find the body underneath his garage, where the authorities eventually discovered much more than just one body; in the crawl space alone, they unearthed 28 bodies. Further investigation yielded the discovery of two more bodies in other parts of the property– one was the preserved body of a young man buried in the concrete of Gacy's patio, while the other was found underneath the recreation room of his home. Many of the bodies were buried directly next to each other, suggesting that they were stashed at the same time. Gacy admitted to often killing more than one person in a day. 
Authorities used forensic science and dental records to identify the bodies of all but nine of his victims. When Gacy appeared in court in 1980 he pleaded not guilty by way of insanity. The defense's first witness was shockingly one of Gacy's victims, Jeffery Rignall, who escaped from a brutal attack. While on the stand he testified for all the horrible things John Wayne Gacy had done to him, claiming that the "beastly and animalistic" nature of his attack was one that could only be performed by someone who was mentally deranged and should therefore be institutionalized. Rignall, who was recounting his traumatic experiences, actually vomited on the stand due to the horrific nature of Gacy's crimes. This did not help his defense as it demonstrated to the jury how disgusting and cruel his acts were. Defense attorneys who had spoken with Gacy claimed that he exhibited signs of psychosis, which would render him unable to control his actions. However, prosecutors diagnosed Gacy with a personality disorder instead of psychosis. 
The jury deliberation took place on March 12, 1980 and took an hour and 15 minutes. The verdict came back as guilty, and Gacy had become the man convicted of the most murders in the United States. Jurors voted for the death penalty. After two hours and 15 minutes of deliberation, the jury delivered the sentence. Gacy had spent over a dozen years on death row awaiting his execution. He was executed by lethal injection on May 10, 1994.
The deadliest thing about Gacy was his charm; prior to his convictions he had built a positive reputation for himself that even earned him respect from the police department. He was regarded as a proactive member of his community, and nobody was the wiser. It's always important to remember that you only see the side of people that they want you to see. This case demonstrated that people should be more careful when interacting with strangers. 
"True Crime Chronicles" is a recurring weekly crime column, in which the crimes of famous serial killers are retold, for avid true-crime enthusiasts by an avid true-crime enthusiast. 
Leave a Comment
Your donation will support the student journalists of Ruben S. Ayala High School's Bulldog Times. Your contribution will allow us to cover our annual website hosting costs and purchase equipment.
About the Contributor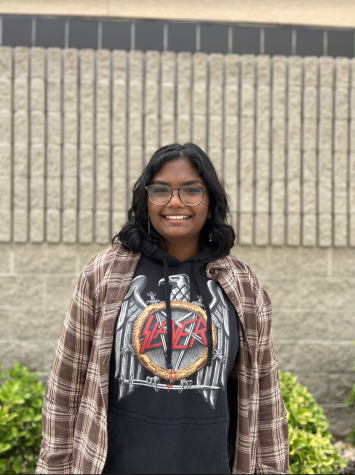 Pooja Singamsetty, Club Secretary, Staff Writer
Pooja Singamsetty (12) is a  two-year staff member of the Ayala Bulldog Times who is looking forward to spreading important information within the student...