Update on school campus safety: how Ayala is protecting its students and faculty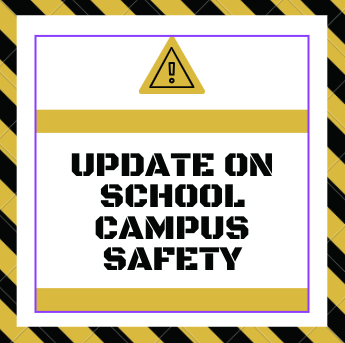 This year alone, there have been 30 incidents of school gunfire on campuses across the country. In such a short amount of time, it has become normal to see teens and children killed so innocently by such a rash act of hatred. America is the country that has continually dealt with such high numbers of school shootings. With these statistics comes the countless amount of safety videos, drills, lessons, and lectures that have been engraved into the minds of students receiving a K-12 education in the twenty-first century. 
The Chino Valley Unified School District has had an open grant with the Bureau of Justice Assistance since the year 2021 that further implements safety protocols and measures on campus. Since its origin, the grant has provided the district with a total of 999,636 dollars. Within the Chino Valley Unified School District, the program has called for the enactment of training, threat solutions, mental health services, and student-led programs such as Safe School Ambassadors that aid the student body by promoting a safe and positive school environment.
Along with the countless measures put into place by the faculty and staff on campus, the CVUSD has also provided Ayala with a school resource officer that further provides a means of comfort and safety to all students. 
"I ensure that [students] are safe here. That is the primary concern," San Bernardino Deputy Daniel Martinez said. "If there is an incident that has happened, and there's a possibility of it continuing, then we help mediate and educate kids on potential crimes that can happen to make sure that they're aware [of the situation]." 
The last time Ayala had faced a serious state of safety issues was nearing the end of the last academic school year. But since that incident, it seems as though the security guards and faculty have become more aware of what to do in an emergency as they take even more precautions than before. 
"We do active shooter training on campus. Most recently, we did it at Chino High School, where we gathered our department, our station as well as Chino Hills and Chino Police Department, and the fire department," said Martinez. "We all create a scenario where we try to mimic a similar situation. So I think since the shootings [across America have] occurred, we have definitely been more prepared with training." 
It has become a hard pill to swallow for adolescents to think about the possibility of escaping a scenario where their safety is in great danger. Hence, why it is necessary to establish rules ahead of time to adequately prepare students for these real life scenarios. 
"I would say, for the most part, I do feel safe on campus because teachers all have their own game plans in case of multiple emergencies," senior Jayden Corpuz said. "I feel that there should be more transparency between potential school dangers for both teachers and students so that we take drills more seriously."
The district is constantly trying to support students who are going through a difficult time in their life. There are various resources available on campus, whether that be talking with peers, teachers and faculty, or visiting the Zen Den to talk with intervention counselors on campus. 
"Kids are having issues with mental health, whether it be here at school, boyfriend, girlfriend, whatever, issues at home, and I feel like that's affecting them and sometimes they feel sad or sometimes even worse, or they want to hurt themselves," said Martinez. "So I think just becoming more aware of that, and if you have those issues, then report it to us and we'll help you with that." 
Every year, safe school ambassadors are randomly selected by teachers and administrators to attend meetings where students can learn how to have a positive impact on their peers.
"Knowing that there is always someone to go to and that there is an organization that aims to create a safe campus is the best thing about being a Safe School Ambassador," sophomore Joy Zhu said. 
School campus safety is one of the most important factors to everyone that works at Ayala. With the measures that are currently in place, the security that the campus has should bring great comfort to students.