In times where cynicism often overshadows sentimentality, there exists a unique kind of individual—a hopeless romantic. Hopeless romantics are the dreamers who deeply cherish the idea of love, who find solace and inspiration in the pages of books where emotional connections are the very fabric of the narratives themselves. For them, love isn't just some abstract concept; love is a tangible force. 
For the hopeless romantics ready to embark on their own romantic journeys, here is a curated list of romance novels that might suit your taste.
1.) If You Could See the Sun – Ann Liang
"Yes, is the obvious answer. I do hate you. I hate everything about you. I hate you so much that whenever I'm around you, I can barely think straight. I can barely even breathe."
In her debut novel, Ann Liang explores the story of Alice Sun, a bright girl with an equally bright future. Alice attends a prestigious school in Beijing, Airington Boarding School, where most of its attendees consist of elitists and rich snobs. One of these rich snobs being her infuriating academic rival, Henry Li. 
Although being smarter than the whole of Airington combined, the amount of intelligence she possesses doesn't end up being enough to secure her place at the school, with the already hefty school tuition increasing exponentially. But when worst comes to worst, and all of a sudden she finds herself turning invisible for no apparent reason, Alice turns to Henry for assistance. And so it begins with Henry and Alice beginning their alliance in order to monetize her new power by spying on students and gaining their secrets in exchange for money. Through both a confusing and long-winding journey, Liang is able to perfectly curate a novel for those who seek a captivating blend of intrigue, self-discovery, and the age-old enemies to lovers trope. 
Liang's debut novel promises a rollercoaster of emotions, from heart-pounding suspense to heartwarming moments between two unsuspecting characters. It's a tale fitting for those who crave a fresh twist on the academic-rivals trope. So, whether you seek a thrilling mystery, a heartwarming romance, or a journey of self-discovery, If You Could See the Sun has it all, and much more, awaiting you within its pages.
2.) Jo & Laurie – Margaret Stohl and Melissa de la Cruz
"Laurie had grown up learning how to love her. It was the only lesson he was ever any good at, because Jo herself had taught him, even if she hadn't known she was doing it. She had made him."
Jo & Laurie is a sanctuary for Little Women enjoyers who long for some action between everyone's favorite traditional 19th century male, Theodore "Laurie" Laurence, and published-author/part-time feminist Jo March. In Jo & Laurie, readers are given more insight on their developing relationship, exploring the lingering possibility of "what-if." 
The story begins with readers being transported back to 1869, Concord, Massachusetts where we follow Jo, now a successful author, as she faces the daunting task of writing a sequel to her bestselling novel. In search of inspiration, she embarks on a week-long adventure in New York with Laurie. Amidst the excitement of their trip, however, Laurie's romantic feelings for Jo come to the forefront.
Despite her growing affection for Laurie, Jo declines his heartfelt marriage proposal in order to maintain a sense of independence, leaving Laurie heartbroken as he heads off to college. Upon his return, Laurie introduces a sophisticated new girlfriend, throwing Jo's emotions into a frenzy. The question lingers: will Jo find the courage to express her true feelings and potentially rekindle a love that has stood the test of time, or will she lose Laurie forever? 
For fans of Little Women seeking a fresh twist on the beloved characters and their relationships, Jo & Laurie is a must-read. Margaret Stohl and Melissa de la Cruz seamlessly capture the essence of Louisa May Alcott's previously crafted world while adding their own unique spin to the tale. This romantic retelling beautifully navigates the dynamics between Jo and Laurie, allowing readers to delve deeper into the emotional complexities of their relationship. A must-read for those who want to experience the magic of Little Women with a romantic twist.
3.) Flipped – Wendelin Van Draanen
"'Some of us get dipped in flat, some in satin, some in gloss….' He turned to me. 'But every once in a while, you find someone who's iridescent, and when you do, nothing will ever compare.'"
Flipped serves as a breath of fresh air from your average romance novel, detailing the quaint yet powerful love story between protagonists Juli Baker and Bryce Loski. Wendelin Van Draanen incorporates the childhood friends to lovers trope in this book beautifully, with an unrequited love blossoming into a sweet and innocent relationship shared between two middle school students over a sycamore tree. 
The story revolves around Juli, who falls head over heels for her neighbor, Bryce, from the moment she lays eyes on him. However, Bryce's first encounter with Juli leaves him with nothing but distaste for the young girl. This pattern of unrequited affection continues for years, with Juli relentlessly pursuing Bryce, who remains intent on avoiding her.  Things take a turn in the eighth grade when Juli begins to see the flaws in Bryce's character, while Bryce starts to appreciate Juli's unique qualities. Their perceptions of one other completely flip, hence the title. Their evolving perspectives lead to a delightful, comic, and heartwarming romance that explores themes of growth, self-discovery, and the tendency to idealize others. Flipped offers strong character development, relatable adolescent experiences, and an optimistic ending that leaves readers with smiles and a sense of nostalgia. 
With its adorable characters, witty humor, and heartwarming moments, Flipped captures the essence of young love and the joy of looking at the world through a more wholesome lens. Juli's unwavering spirit and Bryce's gradual transformation make for a compelling narrative even as they navigate the challenges of growing up.
Overall, Flipped is an enduring and enjoyable read that will leave readers with a smile, reminiscent of the power of perspective and the beauty of young love. Whether you're in search of a heartwarming romance or a story of personal growth, Flipped has something special to offer on every page.
4.) A Walk to Remember – Nicholas Sparks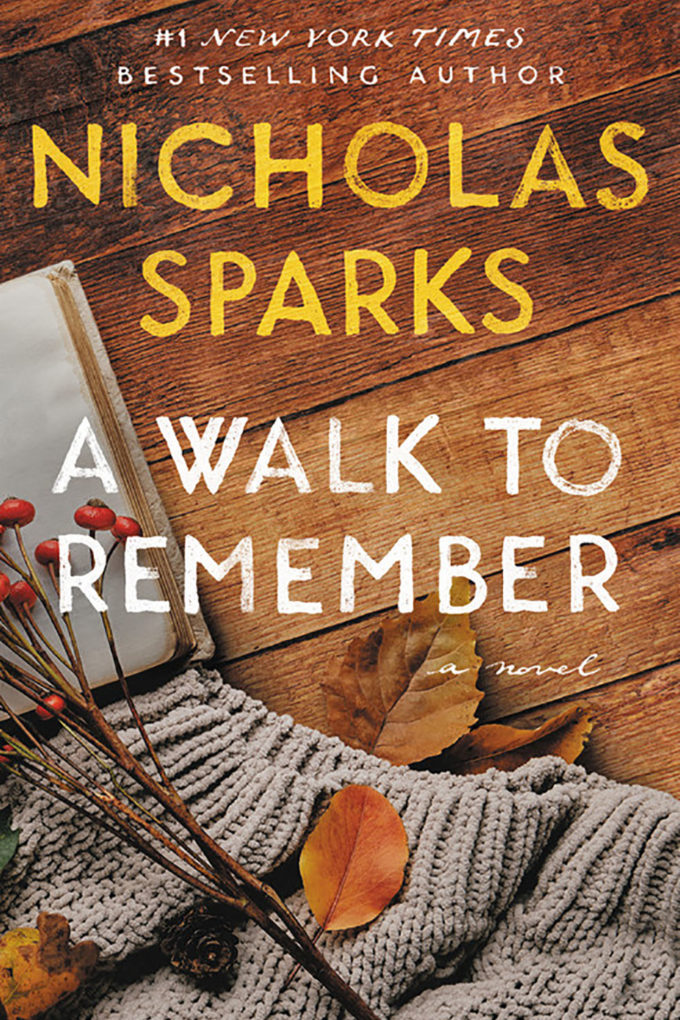 "I held her close to me with my eyes closed, wondering if anything in my life had ever been this perfect and knowing at the same time that it hadn't. I was in love, and the feeling was even more wonderful than I ever imagined it could be."
A Walk to Remember is a heartwarming coming-of-age story set in 1958 in the small town of Beaufort, North Carolina. The narrative centers on 17 year old Landon Carter, the son of a congressman. Landon's life takes an unexpected turn when he becomes acquainted with Jamie Sullivan, the quiet and deeply religious daughter of the town's Baptist minister. 
Despite their differences in upbringing and personalities, fate intervenes, leading Landon to ask Jamie to be his date for a school dance. As they spend time together, Landon discovers a whole new perspective on life through Jamie's compassionate and faith-driven outlook. He undergoes a profound transformation, leaving behind his old self. 
However, their budding friendship is not without its challenges. Landon is about to learn that Jamie carries a secret, one that will profoundly affect their relationship. Narrated by Landon, the novel takes readers on an emotional journey as he grapples with unexpected twists in his life and the enduring power of first love. Nicholas Sparks crafts this love story with care, exploring themes of love, faith, self-discovery, and the profound impact of a meaningful relationship. 
A Walk to Remember is a poignant and heartwarming tale that reminds us of the transformative power of love, making it a must-read for those seeking an emotionally charged narrative.
5.) This Time It's Real – Ann Liang
"When you care about someone, you want to be inconvenienced—you wouldn't mind being inconvenienced by them every day for the rest of your life. That's what love is. That's all love really is."
In This Time It's Real, author Ann Liang introduces readers to Eliza Lin, a 17 year-old grappling with a sudden surge of popularity and opportunities after her fictional essay about a profound love story unexpectedly goes viral. The catch? Eliza has never experienced such a relationship herself.
Determined to maintain the illusion, Eliza makes a deal with her famous classmate, Caz Song, a charming actor. In exchange for her help with his college applications, Caz agrees to be her fake boyfriend. As they navigate this charade together, their relationship begins to blur the lines between fiction and reality.
The story explores themes of vulnerability, the fear of rejection, and the rollercoaster journey from strangers to allies, friends to lovers. Through Eliza and Caz's charming and often hilarious interactions, readers are taken on a journey of self-discovery and the complexities of young love.
The book's narrative captures the essence of youthful romance, filled with heartwarming moments, genuine emotions, and relatable characters. It delves into the idea of what it means to find a place that feels like home and how love can unexpectedly change one's life.
This Time It's Real is a delightful and heartwarming rom-com, perfect for fans of high school romances and the fake dating trope. With its relatable characters and engaging storyline, it's a book that will tug at your heartstrings and leave you with a smile.
For the hopeless romantics among Ayala, these novels are more than just stories; they are a testament to the enduring power of love – a force that transcends the boundaries of time, place, and circumstance. They serve as a reminder that love is not merely an abstract concept, but a tangible and transformative experience that all readers can relate to on some level. As readers are immersed into the pages of these books, they can find themselves drawn into a world where emotions run deep, connections are forged, and the human spirit is illuminated by the warmth of affection. So, whether you seek intrigue, self-discovery, the magic of classic literature, the innocence of young love, or the joy of rom-coms, these books have it all, waiting to transport you into the embrace of love's enduring power.
"[Romance novels are] a safe space to explore those ideas or those feelings, where it's not played out in reality, and it's safe and not in a dangerous space where a person may feel embarrassed or whatnot," ASL teacher Mrs. Natalie Cooney said.