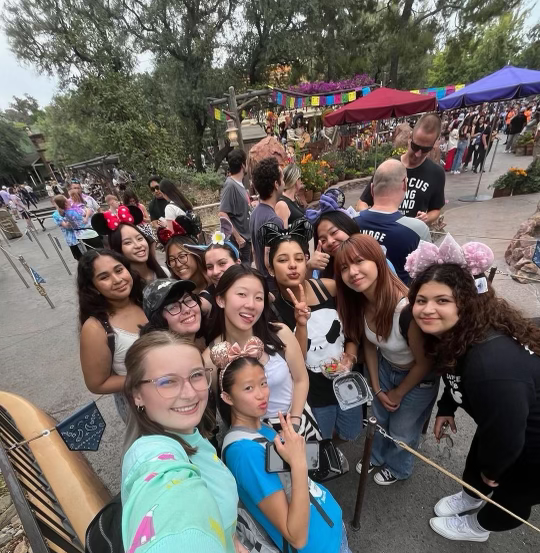 On Friday, September 22nd, the 2022-2023 Ayala advanced dance team participated in a Disney Dance workshop, showing the importance of fundraisers and team bondings. 
The 2022-203 advanced dance team took part in multiple shows last year alongside the beginner, intermediate, and Ayala Dance Program (ADP) dance classes. During shows, the funds profited went straight towards opportunities given back to the dance students, such as their annual trip to Disneyland for a workshop. However, not enough funds were raised through their first dance concert, pushing their Disney date back to this year. 
"We funded everything ourselves through our concerts and I think that's also why people should support us, so we could have more opportunities like this," current Ayala Dance Production (ADP) dancer Maiah Torres (11) said. 
The Disney workshops have been a tradition for dance teams to take part in as students are able to learn from professionals in the field. The most recent workshop that the advanced dance team took part in was held at the Disney Imagination campus and led by a current Disneyland dancer. The instructor first led dancers through a basic stretching series, then a few combinations, ending with a talk about her journey to becoming a professional dancer. 
With the workshop ending around noon, students then had the chance to enter into the theme parks. There, dancers were able to split up into groups and enjoy the rest of the day along with their teammates. 
"We all rode roller coasters together and took pictures in front of the castle together and I feel like it really brought us together," previous advanced dance student Malaia Reger (11) said. "The memories and the laughs we made together were so special."
While the workshop provided dancers with exposure to the professional dance world, the trip also served as an important factor in bonding the team together. 
"Dancers do need that time to bond because it's not only a solo dance or group dance; you need everyone to be able to feel comfortable with each other to perform a dance on stage," former advanced dance captain Emma Fox (10) said. 
Although the dance team was eventually able to attend the workshop, the delayed trip emphasizes the importance of supporting Ayala's numerous programs to help them gain sufficient funds. The money raised from the numerous dance concerts the program hosts, such as Dancing with the Staff and the Spring Concert, go directly back into the program and students. 
"I hope we get to continue building our dance program," Torres said. "Honestly, just making more friendships and relationships with each other and creating bigger and better performances [is our goal]."