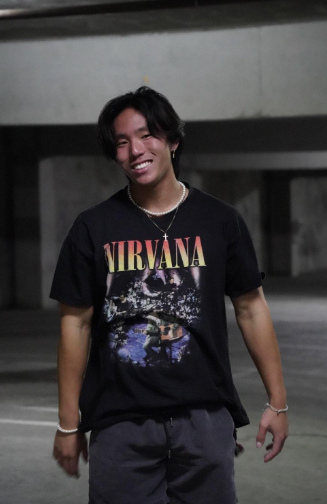 Micah Luck (12) was born to lead by example, rather than being a follower. On campus, he is a positive influence who aims to guide his peers and help in any way possible, while off campus, he is a kind person who values his relationships with his friends, family, and God. Through his many leadership positions and extracurriculars, Micah assists others in their academics and encourages people to be the best version of themselves in their own personal lives.
"To me, leadership means someone who's willing to sacrifice their own desires for their followers," Luck said.
As an Eagle Scout, Luck is very familiar with making his own sacrifices for the benefit of his community. At Gateway Friends Church in Diamond Bar, Luck has devoted countless hours to making a prayer garden for his Eagle Scout project. He was assigned to a large dirt patch and was only given some tiles, yet he managed to turn the area into a beautiful place of prayer where people could enjoy the landscape that he built. Despite some challenges he came across during his project, he was still able to complete the garden and the church absolutely loved the final product.
"The day of the project, I didn't have a lot of people, but I still had some people who were willing to work hard and help. I was expecting 50-75 people but only 10-12 came," Luck said.
Though his plan didn't turn out as expected, he was still able to work with what he had. His ability to overcome obstacles throughout his project while guiding his group to success demonstrates the qualities of a true leader, though this isn't the only way he is a leader. On campus, he is a part of numerous school sports, such as track and field and cross country, while also holding club officer positions such as being a Hope for Paws club officer and the ASL Club vice president.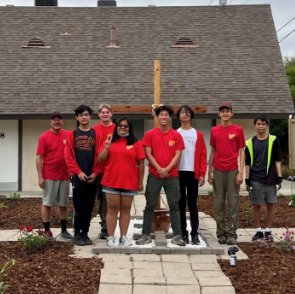 "Micah is an amazing student, he always goes above and beyond. I am so blessed to have had him for four years," ASL club advisor Mrs. Natalie Cooney said. "He really took on a leadership role, especially when I was on maternity leave, so I really appreciated that."
His peers also view him as a positive and helpful influence. Regardless if the matter pertains to academics, sports, or clubs, Luck is sure to always assist those who need further guidance. 
"He's a good person with a good heart. He always is there when you need him and doesn't hesitate to help others," Emily Zavala (12) said.
"Micah is a very cheerful person and he can really help people through tough times by giving them advice," Aaron Chen (12) added.
When he is not in the classroom, he can be found participating in cross country or track and field. Since childhood, Luck has always had a passion for running. Every day, he continually shows up to practice, ready to try his hardest and push himself to be faster than the day before. While he enjoys the physical aspect of the sport, what he loves even more is the community that ties it all together.
"It's like a family and we're all connected. No matter what, nothing can break us apart and that's what I love," Luck said.
At the heart of all of Luck's clubs, sports, and hobbies, he credits God and his dad for getting him to where he is today. He strongly values these relationships and actively works to improve them every day.
"My father has always been there for me and has always had my back. God has always been there for me as well. He's always been there during my darkest times and through my darkest hours," Luck said.
As Luck looks towards his future, he is working to pursue law enforcement in order to help make the world a better place. He intends on attending the University of California, Irvine in the fall, with a major in criminal justice. He is currently in the police explorers program and is getting the necessary training to make his career goals a reality.
"I've always been inspired to go into law enforcement and help the world. I'd rather be out there doing something for people, rather than something that will make me rich or famous," Luck said.
With this year being Luck's last year at Ayala, he hopes to make a lasting impact on his peers and inspire others to be better individuals. His message to the world is to always stay true to yourself and not to care about other people's opinions.
"No matter what you do, always be humble. Never let the arrogance get to you," Luck said. "Working hard is always going to get you far in life. Inspire others to be better, that way we can strive for a better world."