You may have heard his name mentioned in K9 News, seen him jubilantly walking around campus, bumped into him while he was busily preparing for an upcoming event, or met him in one of the many clubs he participates in. 
Daniel Choi (12) is a proud Bulldog who is deeply involved in the behind-the-scenes of Ayala's events and operations, and has not only made deep contributions to the school, but to the state of California. 
Initially coming to Ayala, Choi was unfamiliar with the high school environment. Although nerves filled him, his anticipation to make new friends and create a difference on the campus triumphed over any doubts he previously had.
However, the mystery of what high school had in store for Choi brought more excitement to him than anything else.
"I was scared coming out of middle school. I mean, it's not what I expected. It's what was unexpected that intrigued [me]," Choi said.
Choi's natural love for people and for serving the community would eventually lead him to make a lasting impact on Ayala.
For all four years of high school, Choi took part in the leadership program. Within the United Student Body (USB), Choi held a multitude of positions, hoping to make a difference through each one. Commonly recognized as the previous Speaker of the House, Choi previously held the role of video commissioner and is currently in charge of USB's publicity. 
His experience in leadership did not simply contribute to his diverse resume but allowed Choi to grow as an individual.
"I like to believe I have met [my] goals. For leadership, I have expanded outside of my comfort zone [and] had a lot of fun," Choi said.
On a smaller scale and within USB, Choi founded the Mental Health Initiative, which hosted the Chill-Pill Initiative. Choi prepared over 300 minutes with encouraging notes to hand to students during finals season. This seemingly small act of kindness would motivate and alleviate stress from hundreds of students on campus. He saw a problem among the Bulldogs and decided to do something about it.
"I just didn't like that everyone was sleeping around me during finals season. I asked volunteers to write messages and sent them out to every single classroom," Choi said.
Choi is further involved in a number of clubs and holds the vice president positions in Key Club, Mock Trial Club, and Youth Economics Club. He is a member of Ayala's tennis team, National Honor Society, and participates in the Positive School Culture Club as the secretary. 
Choi's positive attitude is evident through his accomplishments in Ayala, but they also shine in his collaboration with teammates and peers.
"Daniel is someone very energetic. wherever he goes, he makes a big presence. He always makes sure to smile and makes sure that others are happy as well," Rohee Kim (10), Choi's tennis teammate, said.
"
Daniel is someone very energetic. wherever he goes, he makes a big presence. He always makes sure to smile and makes sure that others are happy as well.
— Rohee Kim (10)
In terms of academics, Choi is far from lacking. Boasting an impressive 4.7 GPA, Choi has worked hard to perform exceedingly in his 15 AP classes and continues to do well grade-wise in his senior year.
His dedication to education is clear to his peers and his teachers.
"He did very well in AP Euro, and I think he's also taking those skills and taking them into other AP classes. He's been able to be successful in those as well. He's very capable [and] I'll be anxious just to hear when he comes back," Mr. Kenny Donovan, Choi's previous AP European History teacher, said.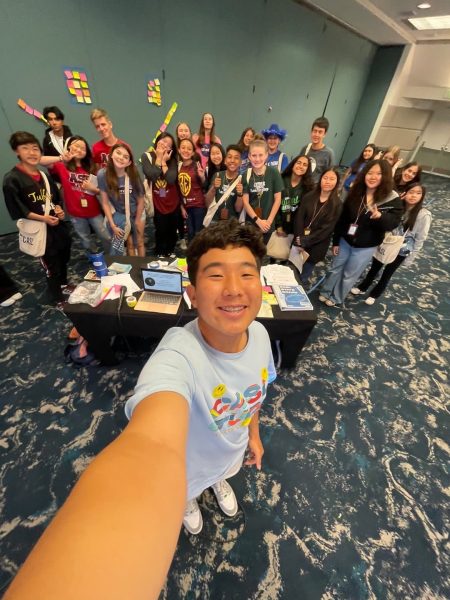 Choi has made significant achievements and contributions to aspects outside of Ayala's campus. 
He is involved in the California Division Voters of Tomorrow (VOT), a Gen Z political activism organization that encourages political engagement in high school students. Through VOT, Choi has spoken on topics such as Roe v. Wade and certain bills passed by Chino Valley Unified School District. Although Choi was not directly involved with any of these topics, his caring and determined nature led him to stand up for the rights of others.
"I joined and I was like, I got to get involved even though it doesn't directly involve me," Choi said.
Moreover, Choi is deeply rooted in the California Association of Student Leaders (CASL). Initially working as a Southern Director and Board Member, he led workshops, created conferences, and contributed to the organization's efforts to develop the next generation of leaders. 
Recently, Choi was presented with the prestigious opportunity to serve on CASTL's executive board, a title not many have the chance to receive.
Among Choi's many accomplishments and involvements, he has also worked for ThinknLocal, won an entrepreneur competition, and recently became an Eagle Scout after seven years in Boy Scouts. 
Although the Eagle Scout title meant a lot to Choi, the memories he made and the chances he had during the process of attaining the honor meant the most to him.
"I mean, it was Boy Scouts. I liked it. It was fun. I liked talking [and] helping younger kids because like I was once a young kid," Choi said.
Capitalizing on his strengths and following what he is most passionate about, Choi hopes to major in political economics at the University of Southern California and ultimately become a corporate lawyer. 
His goals are great, yet his intentions are greater. Choi's hopes are not centered around materialistic or selfish aspects but are built on his plan to use his talents to benefit others.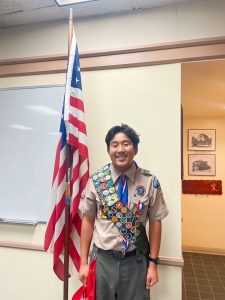 "I do know that I want to be a lawyer. I know I want to help people just like I did in high school. I just know I want to help people," Choi said.
Choi's peers and mentors unanimously agreed on his potential.
"I can definitely see [Daniel] holding a significant position of leadership in the future or something that involves public speaking. Daniel's public speaking skills are valuable. He also isn't afraid to voice his thoughts and contribute beneficial ideas," Isabella Liang (12), Choi's friend and fellow club-mate said.
In the end, Choi ultimately ties his success back to his greatest supporters – his family and friends. The never-ending support of people like his sister and Bulldog alumnus Gaby Torres and Irene Kim are the individuals to whom Choi credits his accomplishments.
"You know, they've been supporting me all this time. I'll tell you, [they] have been always comforting me [and] I learned a lot from [them]," Choi said.