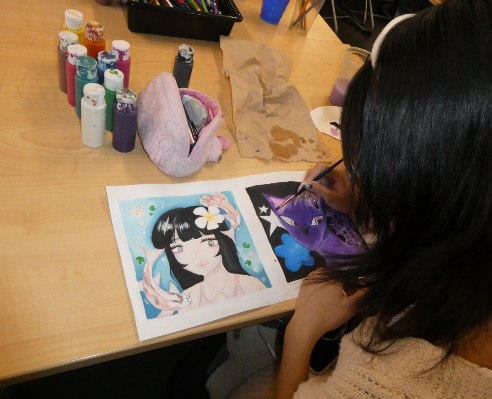 Paint brush strokes, soft sketch lines, advice from teachers, and encouragement from peers – art fundamentals has it all. This class serves as an introduction to basic principals regarding all mediums of art. Whether you have never picked up a sketch notebook, or if you are a well seasoned artist, art fundamentals make room for everyone, regardless of your prior skill level.
In this introductory class, you can expect to learn a variety of different skills. This includes color matching, realism, cartoons, shading, lines and shapes, painting, and much more. All of these skills work together to help artists make a final product that incorporates different techniques and elements.
"I try to teach a wide variety of skills. Even if we jump from cartoons to buildings to something else, it still builds on those skills," Art Fundamentals teacher Mr. Daniel Spellman said.
A common concern is that you may get a bad grade if the art piece is not up to par with the teacher's expectations. While it is always encouraged to try your best, the teachers grade based on effort, not skill level. This class encourages students to think outside of the box, rather than being limited to the traditional mold that teachers tend to lock students in. This class breaks away from the ordinary way classes are structured and instead offers artists the chance to apply their creativity towards what they want to do. This freedom allows students to learn skills that they are interested in and build new artistic foundations for their own personal enjoyment, rather than for the grade.
"The major thing I've learned about art is proportions and blending colors with colored pencils and paint," Brian Ung (12) said.
Focusing on specific skills are some of the topics that Mr. Spellman and Mr. Robleto teach, though there are many opportunities to draw what you want, without being limited to a category. On free draw days, students can draw whatever comes into their imagination. 
"My favorite thing is when students actually invent their own voice and style artistically," Art Fundamentals teacher Mr. Sergio Robleto said.
When choosing what elective you should take in the upcoming school year, art fundamentals should be highly considered. Once this class has been taken, students can move on to higher levels of art classes, which all build off of the basic principles that were taught in art fundamentals. Whether you have plans to pursue an artistic future, or if it's just a side hobby, the art teachers on campus encourage everyone to take this class and challenge their creativity. Even people with no experience are recommended to take this class because of the beneficial skills that can be learned and applied from this class.
"The world needs more creativity. I think the world needs people to think outside of the box," Spellman added.
Both Mr. Spellman and Mr. Robleto are professionals when it comes to art, as they can offer beneficial advice to enhance the quality of student's work. Mr. Spellman demonstrates his creativity by the way he depicts his cartoons, while Mr. Robleto shows his artistic side through his murals. Both of these artists take their talents and put it towards their way they teach their classroom to better help their students understand specific techniques.
"The teacher has helped me by giving ideas and how to shade colors. I have learned the color wheel which is about how different colors work with each other," Ryan Li (12) said.
Altogether, this class is a helpful foundational class to begin one's interest in art. If you have any interest in building your art skills, art fundamentals should be considered. Both teachers have a genuine passion for teaching their students, as they jump on the chance to offer student's advice whenever possible.
"It's time to be different and not be told how to think and how to act and how to analyze," Robleto concludes.