Led by Coach Capps and Coach Donovan, the girl's golf team consists of sixteen players with a varsity and junior varsity (JV) team. The varsity team consisted of Captain Malaya Csupak (12), Julianna Limchu (12), Bella Campagna (12), Elisabeth Lee (10), Priya Devine (10), Madison Soong (10), Julia Zhao (9), Julie Zhao (9) and Rachel Lee (9). The junior varsity team included Kailyn Dang (11), Hannah Reyes (11), Eva Alcantara (10), Cassie Du (10), Madison O'Neill (10), Lin Xu (9), and Audrina Rodrigez (9). 
The girls' golf league season officially started on September 20 against Claremont High School at Ayala's home course, Los Serranos Country Club. Hoping to start the league with a victory, the Bulldogs pulled through with a one-stroke league to claim the win over the Wolfpack.
Devine led the team with a 39 (+2) while Csupak and Limchu "erased a 9-stroke deficit in their last group, helping the Bulldogs earn the 1-stroke victory and take on solo first place in Palomares League," according to Capps. 
The Bulldogs won the next match against Glendora by 29 strokes- however, they lost against Claremont by seven strokes. It was a close match and one the Bulldogs will remember next year as we face them once again.
Ayala would go on to win the rest of their league matches which put them at a tie with Claremont for Palomares League Champions.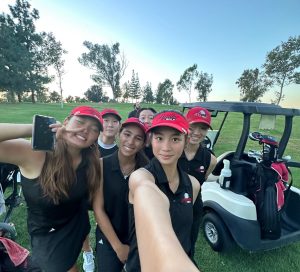 "We tied with a very good team and we shared the championship once again, but we have a really strong team and even a brighter future. So I'm really excited," Capps said.
Home (Varsity)
Bonita: W 199-238
Claremont: W 215-216
Glendora: W 211-224
Away (Varsity)
Bonita: W 209-247
Claremont: L 215-208
Glendora: W 217-246
Similarly, the JV team performed well and had a successful season with a winning streak against Glendora and Claremont's JV teams. Following the previous year's results, the JV Bulldogs worked as a team to shoot scores that would lead to their undefeated league title.
"I'm extremely grateful and happy for the back-to-back undefeated league championship. It shows how hard the team worked together and persevered in order to overcome all the hardships that were displayed to us," Alcantara said.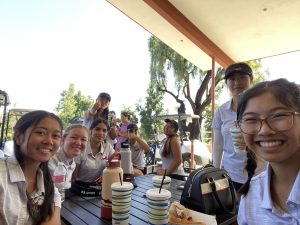 Home (JV)
Glendora: W 249-289
Claremont: W 235-267
Away (JV)
Claremont: W 248-293
Glendora: W 248-301
Individually, Devine led the team with her average of 39.8 strokes per round and earned the most player of the year points by leading seven rounds with the best score. Julia Zhao came in first in terms of scoring with an average of 39.3, and Soong sat at third on the team with a 41.3 stroke average.
The team suffered from some conflicts between players and certain instances of miscommunication. Although the season may have rocky start relationship-wise, the Bulldogs pulled through and managed to create bonds and close friendships.
"We would love to see things move in a linear fashion. And we would like to always see that we're making progress forward. Unfortunately, just like we see with history, we saw with our team this year, two steps forward, one step back, two steps forward. And again, it's all about a learning process," Donovan said.
Amidst the stresses to perform well and the many practices which led to the team's success, the girls made many memories throughout the season. 
"Our win against Diamond Bar, we got told last second that we had a match and I felt like we were in a huge haze playing on punched greens and against Diamond Bar. We didn't know if we won until Coach Donovan took us to In-N-Out after the match where he told us we won and all six of us had smiles on our faces due to knowing that we won," Alcantara said.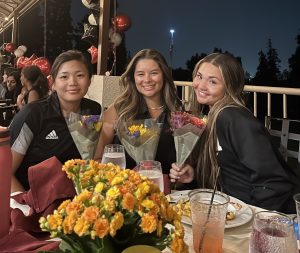 Senior Night was another memorable experience where Csupak, Limchu, and Campagna were celebrated for their four years of dedication to the team and as a send-off, wishing them good luck and success in their futures. 
As the golf season comes to a close and the girls reflect on both their achievements and flaws, Csupak leaves her teammates with an important piece of wisdom: "A number doesn't define you nor does it define your future. Only you have the power to bring yourself down and bring yourself back up. I believe in each and every one of you and wish you all the best!"