Ayala Dance prepares for "Time"-honored spring dance concert
Ayala dancers Carlee Egge (12), Joy Zhu (9), Sandy Huerta (10), and dance advisor Christina Hofstetter discuss Ayala Dance's upcoming Spring Concert and what it means to them
The first ever 2021-2022 Spring Dance Concert on April 28th and 29th is arriving soon. This year's concert will be held back in the Multipurpose Room rather than the outside library stage with no capacity limit. The theme of this concert is "Time," showcasing the different decades such as the 60s, 70s, 80s, 90s, and 2000s. 
Ayala Dance gets busy during concert month due to lots of preparation, which can be fun due to the fact that all of Ayala's dance levels are dancing together in this show. These levels include beginning, intermediate, and advanced, all the way to the professional level of the Ayala Dance Production, abbreviated as "ADP." Parts of the show that need to be prepared include choreography, scheduling, memorizing cues, dance costumes, lighting design, music, and much more. 
ADP has been gathering at morning and after-school practices to clean and review all of the dances to be performed. Dancers have been dedicating themselves to dress rehearsals until 8:00 PM since the week of the 18th all the way until the day of the concert.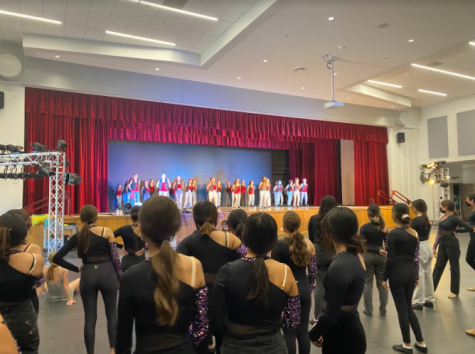 "My favorite part about prepping for the spring dance concert so far is being able to put in hard work while still being able to have fun and bond with the rest of the team since it's nice to get closer to people you are with everyday," said Senior ADP member Carlee Egge. 
Before all the levels of dance practice together, however, ADP and Advanced Dance, along with Intermediate and Beginning, are grouped together to get used to dancing with each other. 
While that is only a part of the Spring dance concert, Intermediate Dance comes in with even more spice for the concert. 
"So far my favorite dance is 'The Times of Our Lives' which is a Hip-Hop Jazz dance, since it's a fast dance that expresses a lot of emotions and releases the human nature of wanting to have fun," said freshman Intermediate member Joy Zhu. 
There are a variety of dances that are being performed in the dance concert genres such as hip-hop, lyrical, jazz, contemporary, and jazz funk. In addition, Chinese Club will also be showcasing a cultural dance. This Spring Dance Concert's main goal is for all who love to dance to enjoy gathering together and to create a stunning performance. 
Beginner dancers are also preparing to demonstrate their newly acquired skills. Although they may not have as many dancers as the higher levels, many still feel stressed since they are still in the process of learning their dances. 
"Something that I do to make sure I do the best is to know all my counts so that the dance can look good," said sophomore Sandy Huerta, a member of beginning dance. 
Learning one's counts is one of the critical skills needed when dancers learn a new dance, which helps dancers stay synchronized to the beat. Dances are also broken down into smaller parts after learning all the choreography to "clean" each section.
Adviser Christina Hofstetter is the reason why the dance program runs smoothly. Before each performance, Hofstetter makes sure her students are prepared by asking them, "What can you do now to prepare yourself for later?" 
Hofstetter also shares her ideas among the ADP student directors, who came up with the idea of the "Time" theme for the concert. She explains that during the stressful concert season, dancers should make sure to practice self-care. 
"It's important to take care of what you can control, such as eating well, getting enough rest, going outside for 30 minutes, and drinking enough water," she said. 
Although Spring Concert prep month may be stressful, it serves as a moment of bonding that many dancers will cherish due to their memorable moments occurring among them.