Staff of BDT: Cody Flores
Cody Flores (12) finds empathy in art and music, using both as a means to self-express and empathize with his struggles, as well as in his relationships 
Art fundamentals. Drawing and painting. An anxious character pressured by the needles of society, pupils dilated and waiting to be stripped of color. In all these mediums and stories, Cody Flores (12) illuminates anxiety from the standpoint of characters yearning to be themselves. 
Cody started drawing as a way to self-express emotions that for him otherwise wouldn't have been able to be expressed through words. Through his drawings, he feels as if he can truly express himself without fear of being judged.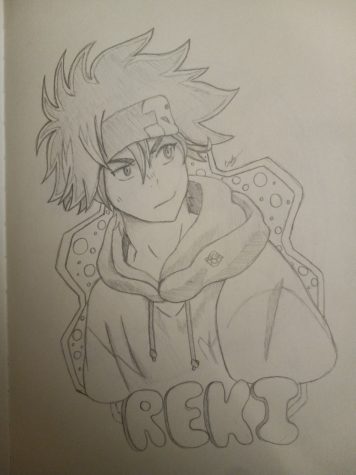 "I'm working on this one project for art, [which has] a character with dilated pupils. One's smaller and one's [larger], and [it has] a fading effect. There's people around, so it [conveys] paranoia in a way that's like insanity," Cody said. "It's like, you can't be who you are just because people are going to judge you for that and try to make you something that you're not. So I try to use art in a way to express those ideas, how certain things like that happen."
In this way, Cody brings to light societal pressures to conform, illustrating the self-deprecating anxiety and loss of individuality that results and reflecting on what it means to be true to oneself. Although he honed his skills in art fundamentals last year, his illuminating craft has been refined and tweaked on his own, experimenting with different styles in his room to the beats of heavy metal, rock, and deathcore. 
Similar to art, music serves as a bridge between the intricacies of his own mind and others, allowing him to communicate his feelings to his friends and family, which act as a venting system that he feels he can confide in. In addition, he finds many of the songs to be relatable to struggles he has gone through and the emotions associated with them, creating comfort in the fact that others have experienced the same. 
"I definitely [enjoy] the screaming because you can let that out," Cody said. "Also, if you try to listen closely to the lyrics, you can relate to what they're singing about. Obviously you have to be careful because some of them can be satanic, but the majority of the time I listen to metal music that helps me relate to what's going on in my life. And I feel like I'm not alone."
Close friend and fellow journalist David Rodriguez (12), who met Cody through TK, treasures the dumb moments and dozens of shenanigans they've spent together, such as when they wildly experimented with the ingredients in their friend's sandwich order, trying to test the limits of the worst sandwich combination. 
"I appreciate that we can have dumb discussions with each other and just mess around and have fun [doing] whatever we want," David said. 
Outside of lending his humor, Cody shows his affection for his friends by giving them gifts, one of his main reasons for taking on a part-time job at a Chinese restaurant, other than lending his mother extra money, who has been struggling financially to take care of him and his brother. 
"Whenever I have someone close to me, I just spoil the hell out of them," he said. "I like giving gifts to people because it makes them happy, and I like seeing people happy." 
The most recent gifts being a toy gun from Knott's and a wallet for two of his friends, Cody relishes finding time to show his appreciation for his friends and younger brother in the form of gifts or showing support in tough times. He recalls confiding in his teacher and getting help through his counselor when his younger brother was in a dangerous situation, a time when his caring and compassionate personality proved vital in looking out for someone vulnerable. 
"We're getting ready for school that day… and he came up to me and was like, 'Can I tell you something?' [I said] 'Yeah, what's wrong? Because he was making this expression seemed really worried and anxious," Cody said. "He told me what he did, and it made me panic a bit because he's my younger brother."