A Year in Review: 2022 from A to Z
It's that time of the year where we say our goodbyes again. 2022 has come to an end and the Bulldog Times is pleased to share our interesting approach to celebrate and recap the important events of this year with you. With the global COVID-19 pandemic that has been continuing to impact our communities, to the death of Queen Elizabeth II, 2022 has made enduring changes to the world. Let us look back on this year in letters from A-Z and prepare ourselves to embrace the new challenges 2023 will bring us.
A – Absences
Poor attendance continues to plague the American school systems, and was seen on our own campus. Aside from the less permissible reasons, there's no doubt that some troubling messages incited panic throughout the school, and not just once. Concerning threats found on Snapchat, Instagram and multiple times in bathrooms stalls had news spreading like a wildfire on evenings prior to mass absences. While nothing came of all the threats, the country-wide catastrophe left many wanting to be more safe than sorry in the sad reality of what could have really happened. Hopefully, we can leave the threats in 2022. 
[Avery Rosas]
B – BeReal
The simplistic social media app, known as BeReal, would spread around TikTok near the beginning of the year which led to a huge growth of the user base towards the app. Through its ability to show others what you're doing at a specific moment with just a single picture; the app allows you to "be real" with other followers and to not fake anything about it. This idea of showing what you're really doing allowed for the app to spread around the community with daily participation that continues to this day.
[ David Rodriguez ] 
C – Change
As students were coming back onto campus for the 2022-2023 school year, returning students saw Senate Bill 328 roll into effect with a change of new start times for all schools within the Chino Valley Unified School District. With this new policy, high schools start at 8:30am and end at 3:22pm. This change has allowed students to get more sleep before the school day starts. However, this led to many parents having issues with dropping off students as there were conflicting schedules between work and school.
[Madeline Khoo]
D – Dancing With the Staff
Prior to the start of the Thanksgiving Break, the Ayala Dance Production and staff presented Ayala families with 'Dancing with the Staff.' This two hour concert consisted of Ayala's very own teachers performing routines alongside the school's dance students. With songs from artists like Lady Gaga to Bruno Mars, the first portion of the concert included teachers dancing to well-known songs within popular media. The second portion saw emotional and tear-jerking performances from the advanced dance classes with songs ranging from Conan Gray to Taylor Swift. By the end of the show, the audience was absolutely blown away by the talent from the students and staff.
[Madeline Khoo]
E – Elections
This year's Executive Board elections saw the end of a historic presidency and the rise of a new one. With kindness and gratitude, then United Student Body (USB) President Gabby Torres (12) stepped down to pass the torch to Chloe Kubeldis (11) during USB's traditional candlelight ceremony, echoing words of pride and fulfillment to her four years in the program. The newly elected E-Board, each with similar drive and passion to serve but harboring distinct styles, look forward to carrying on the legacy set by their precedents. The colorful posters lining campus gates, dipped with witty slogans and paintings of cartoon characters galore, are only the beginning, a promise to the student body which has pillared them all. 
[Isabel Sim]
F – Finals
The 2022 finals season was one that caused stress and panic among many students. The 2 consecutive days of block scheduling allotted for completing finals were spent, by many, in a classroom completing a nerve wracking test. However, other classes spent finals day wrapping up projects, hosting potlucks, or watching movies. Most students have a decent balance of work/play during finals week; those with little "play" in their finals schedule faced the task of studying and preparing for their big tests at the risk of over exhaustion. In order to make the 2023 finals season more manageable, even with a heavy schedule, students should practice deep breathing, meditation, and stress relief techniques to cope with overwhelming work loads. Using these techniques could make finals a lot less stressful. 
[Pooja Singamsetty]
G- Global Warming 
Global warming has become one of the most prevalent issues in 2022. Specifically in California, wildfires have contributed to temperatures increasing nearly two degrees Fahrenheit, as night temperatures have significantly risen throughout the year. Due to this constant heat, vegetation has severely dried, making it easier for wildfires to spark instantaneously. A total of 363,939 acres were burned, and 876 structures were either damaged or destroyed in 2022. As a result, this has left many people forced to relocate, or start their lives over again, which has been particularly difficult given the current state of the real estate market. Individuals continue to suffer as the beautiful scenery of California disintegrates before their eyes.
[Olivia Mendoza]
H – Hanging Out
2022 has been a crazy year for everyone. Although we weren't able to hang out with friends in a close place, after the mandate was lifted there were new shops available for the City of Chino Hills to enjoy. Raising Cane's has been introduced in Chino Hills and people were stoked about it. Having this restaurant open gave kids and adults more opportunities to hang out whether it's eating there after a game or just getting together with friends. Another restaurant that was opened in the Shoppes was Urban Fish Tacos. This restaurant includes TVs, outside dining, and many taco options. This place isn't really aimed for kids to eat at without adult supervision due to the drinks that are sold but you still can go out with your family. The restaurant gave adults a place to socialize and just be grown ups without having to filter what they're saying or a place where they can find new friends to go out with.
[Yemaya King]
I – Inflation
Inflation in the year 2022 had affected everyone in the United States, mostly in a negative way. The overall consumer price went up a total of 7.7% in the past 12 months, and the energy category has also went to an extremely high energy rise at 17.6%. A variety of food items went up, for example the price of eggs went up 25.6%. This could affect the poorer side of the United States, where over time, they would be spending hundreds of extra dollars on food items like eggs. At the start of 2022 the Consumer Price Index (CPI) of used cars went down, from 41.2% to only 2%. The most noticeable change has been gas prices in the United States, the highest prices we've hit being $6.43 a gallon.
[Jacob Harper]
J – Jenna Ortega
Jenna Ortega has been in multiple movies and TV shows. Her main appearance was in a show called "Jane the Virgin" and grew more fans in her lead role in Disney channels "Stuck in the Middle." Ortega has recently gained more followers and fans in her lead role in Netflix's' show "Wednesday." The show is based on the daughter from The Addams Family and it has had a lot of people talking about it. This was relevant in the year 2022 because of how many people had enjoyed watching the original Addams Family. Many people had agreed that Ortega played the role astonishingly and had imitated the original characteristics of Wednesday Addams to perfection. 
[Trina Lizama] 
K – Knockout Chino Hills
Knockout Chino Hills, otherwise known as the phrase "K Chino Hills", was chanted all throughout the night of Battle for the Bone as we secured yet another win over our cross town rivals, the Chino Hills Huskies. The night featured a stellar performance by Ayala's Marching Band and cheer leading team that joined together with the Bulldog crowd to celebrate Ayala's 5th consecutive win against our rival school. In addition to this chant, the Bulldog family also cheered "We can't hear you," "5-PEAT," (a term used to describe a series of consecutive wins) and "We believe that we will win." As a result, Ayala's Varsity Football team was able to secure a win within the last few seconds of the game to get to the final score of 20-19.
[Katie Cheng]
L- Labor Shortage
Across our community, restaurants, stores, and businesses are frantically looking for employees to help meet ever growing needs/demands. Everywhere we look we can see 'Help Wanted' or 'Now Hiring' signs posted inside or outside of establishment looking for people who are qualified and ready to work. Of course companies have met their hiring limits due to the seasonal jobs taken up over the holiday, but with the season now over, job openings are becoming more abundant. Full-time, or even part-time jobs, are what keep a company moving in a world where everything is to be done quickly and efficiently. But with lack of labor, they can no longer survive in this ravaging world of want. If you're in need of money or just looking to work, look around your city and surely you will find a company that needs you as much as you need them. 
[Dallas Mangold]
M – Mask Mandates Lifted
On February 15, 2022, California lifted the mask mandate for vaccinated individuals, and on March 1, masks were no longer required for those unvaccinated. Following this important event, on March 12, the Chino Valley Unified School District (CVUSD) mask mandate was also lifted, allowing students and administrators to have the choice to wear them. With the discontinuation of this directive, some were against the decision, fearing an increased spread of the virus, while others were for it, excited to be free of the face covering. However, most can agree that the lift of the mask mandate marked the start of the end of the COVID-19 pandemic.
[Elisabeth Lee]
N – New Administration Building 
What a way to start off the new year with a brand new and improved administration building for our counselors and other school officials. For this year's A-Z, for the letter N, we have the new admin building with fresh new paint and reconstructed interior. Before the building was renovated, it was much like a mini maze, with people finding it difficult attempting to figure out where to go. Thanks to the new signs and the simpler interior of the building, visitors and students now know exactly where to go. The redesign of the building allows the school to keep up with the modern architecture style as the future quickly approaches. 
[Cody Flores] 
O – Overworked 
Many students tend to get overwhelmed with school work. Teachers are constantly giving out assignments without giving students breaks. Bulldogs are always trying to catch up on their work and keep up with their assignments. Sometimes students don't have time to study or to do their homework due to extracurricular activities, which can cause students to stay up late. This can even lead into sleep deprivation, which is a big sign of overworking the body. Teenagers become stressed with the overloads of homework and projects alike. Scholars and teachers must learn how to manage their time and work equally and efficiently. 
[Kim Flores]
P – Publication
Beginning just the year prior, Ayala's school newspaper, The Ayala Bulldog Times, established its presence at our school through passionate, engaging experiences and stories, all harbored through our website and social media platforms. Editors like Katie Cheng embodied the spirit of our growing project and catapulted the Bulldog Times to its school prevalence, all through 15-second videos and eye-catching Instagram posts. The goal of our publication is and will continue to be displaying the voices and opinions of our campus' students and allowing for all of our students to be heard. Articles about senior year, Hispanic Heritage Month, and coming out have shined unique perspectives on ubiquitous topics. 
[Avery Rosas]
Q – Queen Elizabeth II
2022 marked the death of Queen Elizabeth II as she peacefully passed away on September 8th, 2022, after reigning the throne for 70 years. She was the longest serving Monarch that the UK ever saw and, through her many years of commitment and will to serving her people, also touched the lives of many in the process, leaving a lasting legacy for the future. The Queen was known to dig deep within serious government and political affairs apart from her own ceremonial duties and was responsible for being able to modernize the monarchy of Britain. Through her own endurance and stoicism, she was able to meet many legendary global leaders and helped guide Great Britain through the loss of its own empire, and its uprising as a mid-sized multicultural nation.
[Maximus Hemming]
R- Rally Canceled
Ruben S. Ayala High School planned a Stranger Things themed rally that was originally scheduled on October 18th of 2022, however it was postponed due to threats of a school shooting, raising concerns to both students and faculty safety. Eventually, after 2-3 weeks of postponing and arrangements, the official Stranger Things Blackout Rally took place November 20, 2022 with strict safety procedures. The rally successfully left students astonished from talented class performances and games, as well as excited to finally attend the rally they thought might never be. Despite prior concerns and uncalled for extensive monitoring, the rally offered heaps of school spirit and fun before Ayala Bulldogs left for Thanksgiving break.
[Adrielle Kristine Dumandan]
S- SAT Scores
All SAT scores for tests taken in 2022 have been released. The average was a 1050. With the COVID-19 pandemic, many colleges have made the decision to go test-optional for admissions. Despite this announcement, there were still crowds of high school students applying for fall 2023 college admissions that strived for this higher academic achievement. Current admissions requirements have yet to be made permanent as selective colleges like the Ivy Leagues have indicated that they will only remain test-optional through the high school class of 2024.
[Elaine Kuang]
T – Twitter
In October 2022, Elon Musk bought Twitter for $44 billion and has since been on a rampage, laying off almost half of its workers, instating cash grabs like the blue verification check mark, and campaigning for "free speech" without regard for the spread virulent hate speech and dangerous misinformation. Lots of users have voiced their disdain for these changes which has caused many to leave Twitter altogether. A storm has brewed at Twitter HQ and it doesn't seem like it will subside any time soon as Musk continues with his initiative in molding the social media platform "to build a breakthrough Twitter 2.0."
[Kaitlyn Luu]
U – United 
Although strikes are a common occurrence, staff strikes, notably by University of California (UC) staff, were the most apparent from this year. In November, more than 12,000 total UC staff members went on strike, causing major disruptions on campus. Workers insisted that they were not being paid enough by universities, especially as many of these workers live in some of the most expensive cities in the country. The strikes from this year are considered some of the largest and longest strikes that workers from universities have held in recent years.
[Sayee Deshmukh]
V – Viruses
Various viruses made 2022 a particularly rough year for everyone. As the world returned to maskless, in-person interactions, cases of new viruses and variants rapidly skyrocketed to historical highs. From the monkey-pox scare to the triple-demic of influenza, COVID, and RSV, scientists and health officials spent all year racing to develop vaccines and treatments for this onslaught of infections. Even with reliable vaccines and far lower COVID cases, students and staff racked up more sick absences than ever, while children's medicine faced a shortage crisis—a reminder that we're making progress, but aren't out of the woods yet.
[Wren Bulawin]
W – World Cup
The FIFA World Cup, hosted every 4 years, is an international football tournament that either unites or divides communities depending on which country they're rooting for. However, there is one undeniable common ground: no matter who you're cheering for, there is a shared passion and excitement surrounding the games that bring families and friends together in an epic rollercoaster of emotion and intensity. The 2022 International Federation of Association Football (FIFA) World Cup in Qatar was one of the most talked-about events as 2022 came to a close since the group stage matches kick-started on November 21. Whether it was on Twitter, TikTok, or other social media, people were raving about various goals and players such as Guillermo Ochoa's penalty block against Poland or Lionel Messi's score against Mexico. The enthusiasm even reached campus as students in classrooms even watched some matches live on their phones and chrome books. One core moment witnessed on campus were multiple students carrying Argentina flags in an effort to show their support for the team the day of the Argentina v. Croatia semi-final match.
[Jessica Rios]
X – Xenophobia
Xenophobia rose in 2022 with hate increasing particularly against Chinese and Russians. Throughout the year many Chinese people were attacked for being Chinese, the nation of COVID's origin. Hate crimes had skyrocketed with some considering them second class citizens. Since the War between Russia and Ukraine began, many Russians across the world have been persecuted for their ethnicity. Many students at universities have been forced to stop attending due to being Russian, as well as assaults happening against Russian people across 2022. Within the year, many Latinos were also despised due the hate of illegal immigration which rose in throughout the year.
[Ibrahim Saxe]
Y – Ye
Kanye West has legally changed his name to Ye. Currently, he is known to be Anti-Semitic, Anti-blackness, Trumpism and in slavery denial. Before this, he was a hip-hop enthusiast and rap artist who was married to Kim Kardashian, who Kanye West had four children with. He impacted 2022 going into 2023 by giving out his opinion, thoughts, and feelings coming from a whole bunch of controversial reactions from the Black community, saying "sounds like a choice" and the Jewish community saying that "Kanye West has traumatized the Jewish community and Holocaust survivors." Though not completely his fault, being Bipolar, we can learn that being negative won't help anyone. 
[Angelique Taylor]
Z- Zen Den 
With the start of the new school year, Ayala has put an emphasis on caring for their students with a new room in the library, a safe place for releasing stress, anger, anxiety, etc. The "Zen Den" is a room dedicated to meetings with a counselor for those struggling with mental health issues. Its significance shows the school's dedication towards the importance of tackling mental health problems for students. The room can be reserved by students to have a talk with Mrs. Calderon-Lem, our intervention counselor. The intervention counselor specializes in helping students with traumatic episodes whether it's from general stress, to even personal at-home matters. The Zen Den has comfortable bean bags, a table, and chairs to create a comfortable environment for students that have trouble speaking their mind in unprecedented places.
[Annie Kim]
Leave a Comment
Your donation will support the student journalists of Ruben S. Ayala High School's Bulldog Times. Your contribution will allow us to cover our annual website hosting costs and purchase equipment.
About the Contributor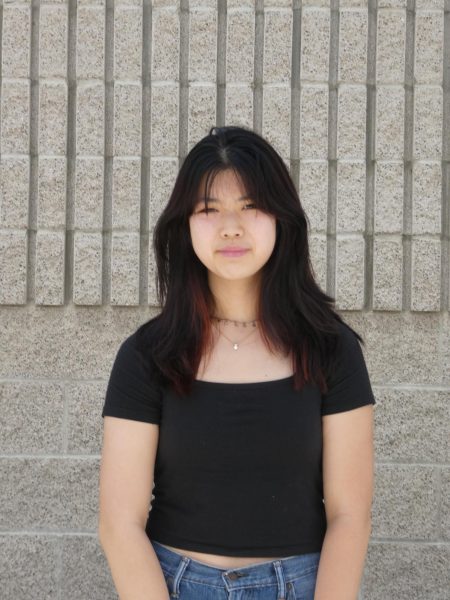 Madeline Khoo, News and Features Editor
Madeline Khoo (11) is the News and Features Editor for The Bulldog Times, and this is her 2nd year on staff. Madeline hopes to write and publish articles...