True Crime Chronicles: Five death row inmates' last meals
A person's chosen final meal can say a lot about someone. Here is a list of five criminals who received the death penalty and what they ate just hours before death, as well as their crimes. 
1. Helping the Homeless 
Philip Ray Workman was convicted of the murder of Memphis police officer Lieutenant Ronald Oliver during a shootout on August 5, 1981, as well as the robbery of a Memphis Wendy's. He was sentenced to death by lethal injection. 
For his last meal he requested a large vegetarian pizza, but not for himself. He requested that the pizza be given to a homeless person instead of savoring his last meal for himself.
Although the prison refused his request, many Tennessee locals took it upon themselves to fulfill his wishes and provided homeless shelters with hundreds of pizzas on the day of his execution. 
2. Brainfreeze 
Infamous Oklahoma City bomber Timothy McVeigh was sentenced to death by lethal injection for 168 counts of murder. He was also responsible for the destruction of one third of the Alfred P. Murrah Federal Building. 
For his last meal, he requested two pints of mint chocolate chip ice cream. 
3. Belly Up on an Empty Stomach
Angel Nieves Diaz was convicted for the murder of a strip club owner in Miami. He was sentenced to death by lethal injection and was the infamous recipient of a botched execution. It was later found that the execution team inserted the IV catheters past his veins into surrounding tissue, causing him to endure a painful death that lasted 34 minutes. For context, the standard lethal injection execution lasts roughly 10-15 minutes. He was injected with twice the lethal dose. 
Diaz declined a last meal. 
4. Traditional Last Meal
Notorious serial killer, rapist, and necrophiliac Ted Bundy was convicted of the murders of over 35 people. He was sentenced to death by the electric chair at the age of 43.
He declined a last meal, so he was given the standard death row meal: medium rare steak, over easy eggs, hash browns, toast, jelly, butter, milk, and juice. 
5. Denied Request 
Murderer Ronnie Threadgill was put to death by lethal injection at the age of 40 for shooting and killing a 17-year-old during a carjacking. 
He requested a meal of baked chicken, mashed potatoes and gravy, mixed vegetables, peas, bread, water, tea, and punch. However, the state of Texas abolished the last meal privilege in 2011, leaving Threadgill to eat the standard food that was distributed instead of his meal of choice. 
If you had one last meal to eat before death, what would it be? These are the last meal choices of famous criminals–would you try them?
Leave a Comment
Your donation will support the student journalists of Ruben S. Ayala High School's Bulldog Times. Your contribution will allow us to cover our annual website hosting costs and purchase equipment.
About the Contributor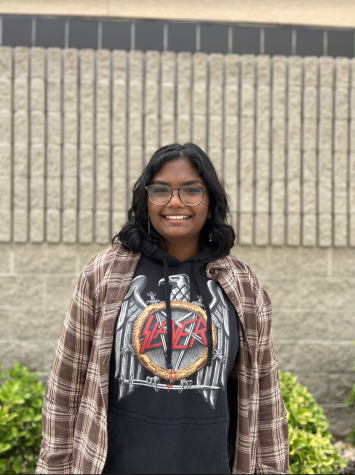 Pooja Singamsetty, Club Secretary, Staff Writer
Pooja Singamsetty (12) is a  two-year staff member of the Ayala Bulldog Times who is looking forward to spreading important information within the student...