Dominic Jauregui dominates CIF Championship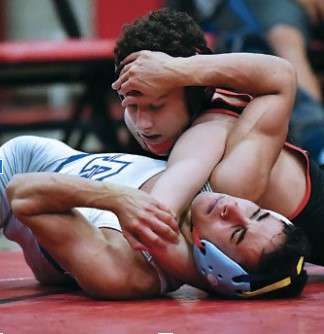 This year's California Interscholastic Federation (CIF) boys wrestling champion is our very own Dominic Jauregui. This has been in the making since Jauregui's freshman year.
"I told myself at the beginning of freshmen year that I wanted to be a four-time league champion, which I did. Become a CIF Champ. I did. Make it to State. I did," said Jauregui. 
Going back in time, one can see how his passion in wrestling started. "When I was six, my dad was starting up a youth wrestling program with some of his friends from high school, and he had me go with him to try it out. Ever since then, wrestling's been a key part of my life." 
Winning CIF is not an easy feat to accomplish but it is one that he will not forget. With all the hard work that is put into each season, it is a great feeling to achieve one's long-held goals.
Jauregui said, "Winning CIF was a feeling that will never be matched. I worked so hard just to make it into the finals, and I was able to, and especially being in my home gym, with all my friends and family supporting me."
Many obstacles came during his journey, such as tearing his medial collateral ligament (MCL) before the CIF finals or even when his postseason was canceled due to COVID. Jauregui would later explain that these obstacles would be learning key moments for him.
"There were good moments, a lot of learning moments, and some bad times, but the reason I got to State is I just kept pushing through it all, kept the goal in sight, and knew what I was capable of," said Jauregui.  
It is easy to see how much of a competitor he is. Jauregui is more satisfied being challenged and winning a narrow match.
"It sounds weird, but the fact that I had to work so hard in the finals and won a close match felt so much more fulfilling than just being handed the win." The past obstacles have fueled him as a competitor but it is important that you have a great support system around you when those obstacles become too difficult.
Luckily, Jauregui has a great support system built around him. "I want to thank all my coaches, especially Coach Grant [Brunier], for putting in the hours with me, constantly pushing me to get better, and finding the best opportunities for me to improve my wrestling."
It sometimes can be hard to enjoy the moment, especially knowing that it may be over soon. "I feel like the wrestling chapter in my life has come to an end, and I feel proud of everything I have accomplished."
It is safe to say that this season has been a very accomplished season for Jauregui. Some of his highlights includes "being ranked in the State for the first time, getting to compete at Doc B Invitation, toughest season tournament, becoming a 4-year undefeated League Champ, winning CIF." 
Even though Jauregui's wrestling career will end with his high school graduation as he will not be pursuing wrestling in college, it doesn't mean that he will drift away from the sport.
"I want to help come back and coach. I think wrestling is something I could never truly give up, and coaching is something I still feel very passionate about, so I want to continue to help coach," said Jauregui. His chapter in wrestling might be over, but his love and passion for the game are not over.