Motivational messages uplift juniors during CAASPP state testing
With state testing approaching for the class of 2024, many feel the pressure of maintaining and improving averages from last year's juniors. Tuesday April 11th marked the first day of the next three weeks that would be under block schedule as students approach the testing season. 
Prior to the current school year, California Assessment of Student Performance and Progress (CAASPP) testing for juniors consisted of being pulled out of their classes for the test while freshmen, sophomores and seniors remained on the same schedule. The block schedule for CAASPP specifically has been a new implementation for this year to promote the importance of state testing and increasing scores from previous years. 
For those who are unaware, the block schedule consists of having periods 1,3,5 on one day and periods 2,4,6 the following day where each period is two hours per day. This schedule is seen to be common during finals, but came as a surprise when it was introduced for CAASPP.
"I like block schedule. It was fun," Kendall Baldrias (11) said. "Testing was stressful but the support from teachers helped me feel better."
To boost morale, the Renaissance and United Student Body (USB) classes put up various posters and acts of encouragement around campus in hopes of motivating the junior class as the testing season arises. In addition to this, students can also hope to see inspiring messages on windows, chalk messages on campus grounds, and posters at every corner of the four quads. 
"I've seen [the posters]. I think they seem nice and I feel like they'll be good reminders for right before I take [the CAASPP]," Ashna Bhandari (11) said.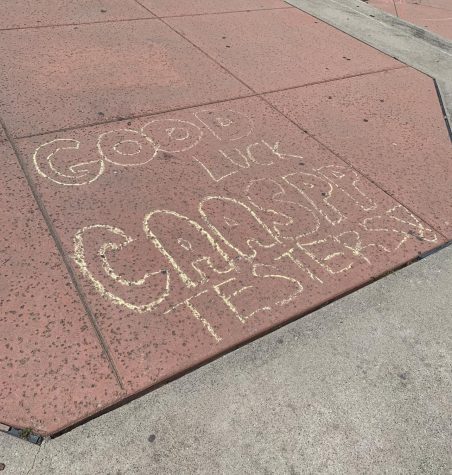 More recently, students might have been able to see the chalk hopscotch on the floor of the B-quad as a way to have a fun break before getting back into the testing mindset. Last Friday, the Renaissance class had filled the campus ground with various games and acts of encouragement to CAASPP testers. 
"Renaissance leads the student and staff recognition on campus," Renaissance advisor and English teacher, Mrs. Alexis Sjol said. "As part of that, we want to recognize our juniors as they take on this busy testing season. It is important to offer little tokens of motivation to try and help them navigate all the different tests they have at this time." 
As the first week of testing finishes up, there are only two weeks of CAASPP testing left before AP testing is on the minds of students who have purchased their AP exam. Despite this, we can only hope for the best as state testing continues and the school year approaches closer and closer to summer break. 
"I think that acts like these, especially during testing, are the most important just to remind our juniors that they're going to do well on the CAASPP and also to let them know how much support they have during this time," Place said.