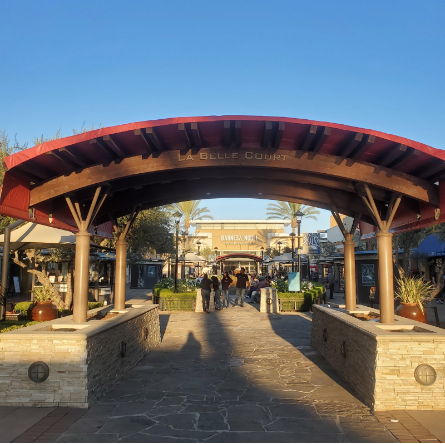 The Shoppes in Chino Hills is a local shopping center that many high schoolers go to after school. This popular hang-out spot is famous for stores like Barnes and Noble, Sephora, Chipotle, Old Navy, Vans, and many others. Though many students hang out there with their friends, its popularity has decreased as high schoolers get older. A once cool place to be at is now being called "lame" by many of the upperclassmen. What has prompted this sudden change?
Some seniors theorize that this sudden change is due to their new ability to drive. As high schoolers grow older, many have gotten their driver's license and can now hang out at places that aren't within walking distance. The Shoppes' close proximity to Ayala has attracted many freshmen and sophomores, as they don't need a car to get there. With seniors driving themselves, they have broadened their horizons to other "cooler" hang-out spots.
"I think that since many seniors are able to drive, there are now many different things to do besides just going to The Shoppes. Now I can go to the movies or the beach," Edorado Arendondo (12) said.
"Now that I can drive, I like going to Lazer Tag and Dave and Busters with my friends," Caroline Schwartz (12) added.
As younger students are unable to get their driver's license, many still enjoy going to the Shoppes as it is a safe and local spot to go to after school. Despite all the stores that many students enjoy going to, some freshmen are still anticipating the day when they can drive and go to further places besides The Shoppes.
"When I'm a senior, I probably won't be going to The Shoppes. I'm probably going to be driving by then and would not want to go there anymore," Arya Kulkarni (9) said.
In contrast, other freshmen feel that The Shoppes is a place that they will never want to stop going to. The Shoppes gives students the opportunity for friends to hang out with each other, regardless of current seniors deeming The Shoppes as "boring."
"When I'm a senior, I am still going to be going to The Shoppes. It's such a wonderful place to go to. I don't think I'm ever going to stop going there," Tarin Ladhawala (9) said.
Many teachers at Ayala agree that The Shoppes is a fun place for their students to hang out with each other, as long as it is not used as a way to divert student's attention from focusing on their studies. Students often are distracted by the numerous possibilities that The Shoppes offers and it can interfere with the time that they should be focusing on school work instead.
"If they are doing well in school, then I think it's a great way for them to socialize and hang out with their friends. However, if they're behind in school, then I think that it could be detrimental to their school grades," AP Psychology and AVID teacher Mrs. Christy Koenig said.
Nevertheless, The Shoppes serves as a place for students to spend time between school and other various activities. With the busy lives of students, many often have activities later on in the day, yet there is not enough time to go home in between. The Shoppes is the logical solution for this problem.
"Every day, I stay after school at The Shoppes because the marching band starts at five and I want to be able to relax and do my homework with some of my band friends in my section," Zach Bilby (9) said.
Overall, The Shoppes in Chino Hills offers high schoolers a fun place to hang out with their friends and go into their favorite stores. Its local appeal allows students to go after school without transportation, as it is within walking distance from Ayala High School. Though The Shoppes is not as popular among seniors and juniors, underclassmen still enjoy going there before they have access to their own means of transportation.
"The Shoppes is a place where people can be together and have fun, or it can be a place where you can relax and have peace with yourself," Micah Luck (12) said.