A typical California "born and raised" resident is able to pinpoint one thing in their childhood memories: a Disneyland trip. Many of us envision our childhood trips full of nostalgia and joy, but the reality of Disneyland is not the same as it was from those memories. Once hailed as a magical, once-in-a-lifetime experience, Disneyland is becoming increasingly flawed, driven by the company's desire for money. Their overcrowdedness and unorganized operations make the overall experience a subpar one that is not worth the excessive amount of time, money, and effort required to visit. It is time to stop perpetuating the myth that these parks are worth the reputation. While it wasn't always like this, Disney's money moves are making things worse. The only thing that can save it is to spend that money on drastic changes in practically every fan experience.
Overcrowdedness
As a previous Disney Park annual pass holder myself, I've seen how the changes that happen over time are impacting the experience. A major one is rampant overcrowding. The parks are a popular destination for tourists and families alike, leading to a constant influx of visitors. However, in recent years this overcrowding is so severe that visitors are forced to wait in lines for hours on end, just to get on a single ride. The sheer volume of people is overwhelming and it makes it almost impossible to navigate the park without feeling like a sardine. This is not to mention the noise levels, lack of privacy, and general claustrophobia that comes with the high volume of visitors.
A lot of the queues, even new ones, have skinny hallways that are uncomfortable to stand in and impossible to sit in. One that comes to mind is the Radiator Springs Racers ride. Averaging an hour and a half of wait time, groups in that queue have to crowd around each other to simply stay together and you'll often find yourself shoulder to shoulder with strangers. And once you leave the rides, it's difficult to navigate paths when you can't even see them, especially in high-traffic areas or times, like after fireworks.
Technology Updates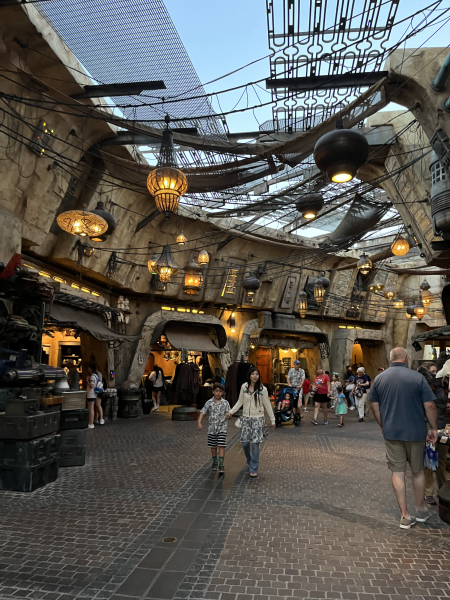 Disney has capitalized on the issue of crowds by introducing the FastPass+ system and later replacing it with Genie Plus, both of which create a hierarchy within the park. The systems require park-goers to pay extra money on top of their already pocket-draining experience, just for a chance at a shorter wait time. It seems as though without purchasing these add-ons, the experience is full of lines and impatience. Those who can afford the pass enjoy a better experience, while the rest are left to suffer. The fact that Disney prioritizes profit over visitor experience is a clear indication of how overrated Disneyland really is. 
On top of this, Genie Plus is incredibly difficult to navigate. I hadn't seen it myself until my most recent trip to Disney this past August. In summary, the system requires guests to reserve a timeslot to get on an attraction. The guests aren't allowed to choose another until they check themselves into their designated timeslot or two hours have passed. Once their time comes, they can board the ride through an alternative, seemingly faster, line but will still have to wait a bit. While the system seems logical, the process makes the day a lot more stressful. I found myself constantly checking my phone for time slots as if I were in a queue for concert tickets. I had little time to take in my environment and my phone battery was constantly draining. When I was a kid, I just had to grab a physical ticket, which was a much simpler and enjoyable process. This virtual nonsense isn't the feat that Disneyland thinks it is.
Merchandise Sales
The park's constant push for merchandise sales is exhausting, with souvenirs and trinkets that are not only pushed at every turn but are also overpriced and often low quality. Visitors are bombarded with ads for merchandise, leading to a less enjoyable experience and a feeling of being constantly sold. The park's focus on merchandise sales also takes away from the immersive experience that visitors come to expect from Disney. Instead of being transported to a magical world, visitors are reminded that they are simply customers in a corporation's scheme to make money. Disneyland is not designed to provide visitors with an enjoyable experience; they are designed to extract as much money as possible.
The pricing is even more horrid. A mystery pack of pins now costs around $30. I remember being a kid and trading pins on my lanyard, paying nowhere near that amount of money. Now, I have to think through my strategy in pin-trading in order not to lose any money and get the scarily large amount of money I spent worth it. Sure, I want to be able to participate in these classic Disneyland traditions, but for that amount of money? No thanks.
Ticket Prices
Is it even worth buying the ticket in the first place to go? I'm not even in the parks yet and already sweating about my draining bank account. From the start, the technicalities make purchasing a ticket exhausting. You first have to check which days you're allowed to go, as certain days are blacked out, more expensive, or not reasonable for your trip. Then, you have to consider all of the add-ons for your already expensive ticket. There's Genie Plus, park hopper, and even parking passes. But your day can't be complete without those…right?
For reference, going to Disneyland in October 2023 on a weekday starts at a base of $234 per person. Then, add on park hopper for $65, Genie Plus for $20, and parking for $30, and suddenly your total is over $300. Make it for a whole four-person family and it becomes well over $1000. And that's just a one-day trip.
Although Disneyland is a centerpiece of many people's childhoods, it is time to grow up and realize that these rides, mascots, and dining experiences are no longer the ones we love; instead, they are money-obsessed schemes. While some attractions may be worth seeing, the overall experience is simply not worth the exorbitant amount of time, money, and effort required to visit. At least, not in the way they used to be. Disneyland is not the magical destination they are made out to be, but rather a greed-driven corporation that cares more about profits than the people who visit. The parks may be marketed as family-friendly destinations, but in reality, they are only accessible to those who can afford to spend the most money.