Picture this: you're strolling down the hallway, lost in thought, when suddenly, a rogue rolling backpack zooms into your path. Disaster strikes as you find yourself perilously entangled in a web of straps and zippers. The oversized wheels of doom mow down your toes, leaving you in agonizing pain. It's a safety hazard of epic proportions! 
In the lively halls of our school, a peculiar menace has stealthily infiltrated our hallways, disrupting the natural walking path of countless students: rolling backpacks. I want to preface this article by saying that the people who use these weapons of mass annoyance due to health issues are exempt from any and all complaints in the following article as this article is not a way to attack those who can't help themselves. But for the other students who stroll around campus with their mobile fortresses without probable cause, be prepared to face the wrath of cold hard facts.
Personal space no longer exists
First and foremost, rolling backpacks are enormous, comparable to portable black holes that suck in all hallway space. Trying to maneuver around these colossal contraptions feels like attempting to navigate Daedalus's labyrinth. The resulting chaos turns a simple walk to class into an epic battle for survival, with unsuspecting bystanders dodging and weaving like characters in John Wick. The ceaseless fear that rolling backpacks induce due to the thought of having one's toes run over by a rolling backpack is no issue to scoff at. Schools should really consider adding "rolling backpack dodging" to their physical education curriculum – a skillset now essential for survival. 
Rolling backpacks make me wish I didn't have ears.
Ah, the distinctive sound of a rolling backpack in motion– a cacophony that can only be described as the unholy union of a chainsaw and a squeaky toy. A symphony of chaos if you will. Each innocent bump in the concrete transforms into a thunderous drumbeat, an alarming reminder that tranquility is a thing of the past. The noise, a constant reminder of our collective suffering, pierces through classrooms, causing concentration levels to plummet and students to contemplate earplugs as the latest fashion statement. 
The Backpack Avalanche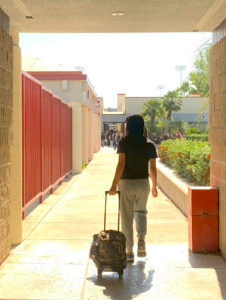 One of the lesser-known perils of rolling backpacks is their tendency to create mini-avalanches of textbooks and school supplies. The velocity at which rolling backpack users navigate the hallways is equivalent to a racecar on steroids. They zoom past at breakneck speeds, leaving a trail of disoriented students in their wake. As their owners speed through the halls, the backpack's contents jostle violently, threatening to spill out at any moment. Unwitting bystanders are at risk of being buried under an onslaught of books and binders. The fear of being buried alive under a pile of textbooks while trying to get from class to class adds an extra layer of anxiety to the already stressful school day. Attempting to anticipate their erratic movements becomes a daily game of chance.
Dear rolling backpack enthusiasts, it's time for a reality check. The chaos you create, the noise pollution you unleash upon innocent bystanders, the safety hazards you induce on the world– it all adds up to an amalgamation of inconvenience and irritation. We are on our hands and knees begging that you free our schools from the tyranny of rolling backpacks. The hallways will thank you, our toes will thank us, and the world will be a slightly quieter and safer place for all.