Anna Li: Optimism Through her Rigors Brings a new Adored Hobby into her Life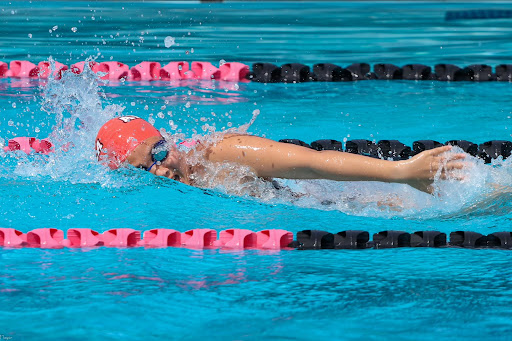 Senior Anna Li first fell in love with swimming after experiencing multiple competitions and the competitive atmosphere during her high school seasons. She first started taking lessons in the third grade in China because of her asthma that was caused by a smog issue.
Eventually, Li said, "Swim became a safe space for me where I could forget about everything else and just enjoy the water."
Growing up as an academically inclined student, Anna always felt the need to get proficient grades and be on top of her class. Others escape from reality through video games, youtube, etc., but Anna likes to use swimming as her form of escape.
Athletes in swim require high dedication because there are 3 hours of practice after school and frequent swim meets, Li saying,"some [being] out of state, which limits the time to do other activities."
Anna does weight training 3 times a week to keep herself in shape on top of the hefty 3 hours she spends in the pool. Although swimming takes much dedication, Anna enjoys her time there and during her meets as the atmosphere brings her joy and a sense of self satisfaction.
Not only does Anna swim girls varsity at school but she also swims for Brea aquatics which holds practices at Mt. Sac. She loves the competitive and passionate nature of the program because it motivates her to do better everyday. She has been recruited to several NCAA D3 and D2 schools, however, is unsure about pursuing swim in college due to the extreme time dedication and commitment as well as a limited option of colleges.
In college, Anna plans to focus on business, specifically in finance or economics and wants to travel internationally. She plans to visit Asia and their businesses because of their rapid growth in economy and development.
One of Anna's hobbies is gardening, it calms her and gives her a sense of relaxation contrary to the adrenaline rush emotions she feels during her meets and practices. She grows grape vines as well as tomatoes with her father in her free time. Anna also states, "I also enjoy web shopping to kill free time, although I'm broke."
The best part about swimming to her is the environment and the people she is with since she has supportive coaches that help her and listen to her concerns. 
The enjoyment of going to competitions stem from the close races every meet, breaking records, and the adrenaline rush from facing difficult opponents. Before swimming, Anna prepares by eating something light and having sugar water so she can function during her workouts. 
Anna's most adored hobby first originated from avoiding health issues, into a lifestyle she loves today.