Boys Republic's yearly wreath production
Hard work, family environment, and making a difference. All of these attributes are what make a great working environment, and Boys Republic's Della Robbia Wreath Farm fits these characteristics perfectly.
For nearly 100 years, Della Robbia Wreaths have supplied not only our community, not only the U.S., but the world with fine quality, handcrafted wreaths for the upcoming holiday season.
Celebrities alike have recognized these wreaths for decades, and have donated toward the cause of getting the troubled teens of Boys Republic necessities not only for their well being, but for their futures as well. Many have worked there for decades, mostly because of how rewarding and friendly everyone is. Before production of these wreaths can even begin, a group of workers meet months ahead of their work schedule. Ladies who have worked at the wreath farm for more than 20 years meet and create the pine cone rings that are set to be placed upon the wreaths. These ladies have had the longest tenures out of everyone.
"I worked for 6 years and then stopped, then came back in 1990 and have been working here for 32 years," said Maria Perez.
Production begins around Thanksgiving break, and people come and volunteer. Teachers, administrators, staff, and even local volunteers all come to help create these handcrafted crafts wreaths.
The birth of a wreath is quite simple. First, the wreaths are shipped in from Washington and prepped to be sprayed on a long, 1,000 hook belt that surrounds the whole warehouse. After they are left to dry, the bare and empty wreaths are taken to production tables, where volunteers attach the before said pine cone circles.
After being attached with thin, green wire, fresh fruit consisting of apples and lemons are attached to the wreath. They are then set on the group supervisors table to make sure all the non-natural parts are covered with fresh pine, wires are safely put down, and the fruits are attached nice and snug. The final stop for these wreaths is the backroom, where stacks of 5 finished wreaths are set and ready to be sent onto packaging.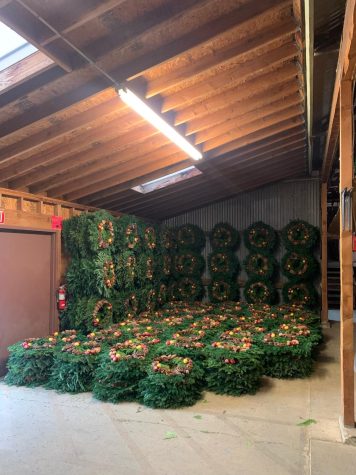 "As they go through this belt, they are brought into the packaging room, put into boxes, and are ready to be shipped all over the US and even all over the world," volunteer Antonio Aguilera said.
Della Robbia has been serving these wreaths since 1932, and their production hasn't slowed in the slightest and neither has their quality. This proves beneficial for Boys Republic, as the money raised goes straight back towards their students.
"With this, we expose [students] to what warehouse employment looks like. It's tiring, it can be long hours, but at least they get a taste of what it's like and that they are prepared," staff member and volunteer Yessica Montoya said.
With the production of nearly 34,000 wreaths, it is of course no small feat to accomplish, as the mental and physical toughness of volunteers are challenged, but worth it in the end. Locals who show up have all loved their experience and continue to return day after day to meet their quota for that day's work.
"I will come back for sure because I think the people who you meet are welcoming, and even though there is a language gap sometimes, I'm learning and everyone seems to be really friendly about that," volunteer Yvonne Ishimareu said.
The news can spread through the local people quickly, as many have heard of these opportunities through friends, family, or through social media.
"I found out about this through a friend and he used to work here, too. He liked it. I like it. It's super friendly, they welcome you with open arms. It is hard work but totally worth it," volunteer Ryan Barten said.
Most of the staff at Boys Republic take time out of their day to come down and work at the warehouse to help. The reason for this is because of the COVID pandemic and how it hindered the volunteer flow. These administrators and staff alike took it upon themselves to create these wreaths and they haven't stopped showing up since.
"I've worked here for 30 years, but have come down to help for 3 years now. I met this lady, who is now retired, who had been helping here since the 60's and as you meet more people there are 2nd, 3rd, 4th generation family members who come from this one person," Executive Director of Boys Republic, Chris Burns said.
Wreath production at Della Robbia has stayed relatively the same over many years, but COVID has hindered the traditional operation.
"I'd say we've created something that now is the most team oriented, and the most student/staff oriented we've ever done it," said Burns.
After all the wreath sales are done and money is raised, the beginning of providing for the students commences.
"Their work is first rewarded with an ROP certificate in work experience program, then five units of school credit for all the components they've been involved in," said Burns.
Even though the educational aspect for these students is a great opportunity, the big reward is the purchasing of basic survival needs for these residents.
"It's a big part of purchasing clothing, food, and whatever needs they have throughout their stay here," administrator Duffy Blau said.
An excellent experience is an understatement, the work done is underappreciated, and the cause of this foundation isn't told enough.
Celebrities continue to spread the name, but what Boys Republic and Della Robbia do is worth knowing especially for locals who live near. If you ever need a seasonal job, want to volunteer for a good cause, or just even buy wreaths, Della Robbia is the place to go.