Jamie Park: Dedicated Golfer, Captain, Teammate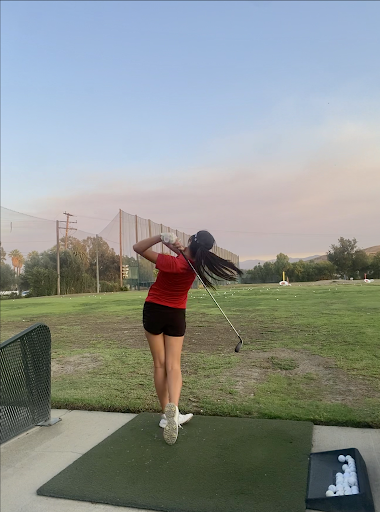 One, two, three…ONE. Jamie Park's (12) tempo is impeccable, her driver coming down from a powerful backswing and slamming through the ball in a single swoosh. She sends the ball flying through the air, utilizing her well-established technique to shape the shot to a draw and land it 230 yards. The next few minutes are a blur as she lands the ball softly on the green and two-putts for par, achieving her personal best score of 77 (three over par) and securing her spot in the individual's CIF, California Interscholastic Federation, state.
Jamie Park, four year varsity member and co-captain, along with Samantha Fong (12), of Ayala's girls golf team is an incredible athlete with solid technique and a calm-under-pressure, but ambitious mentality.
However, there is a first time for everything for every athlete, and when her dad pushed her to begin, catching on to the technical game of golf was difficult. Luckily, with constant encouragement from her dad and the relentless determination to get better, Park quickly turned things around, leading to her successful high school golf career.
Park looked back on her beginning days of golf, "My dad had forced me to play golf in sixth grade and eventually I began to like it…[but] my first year of golf was hard for me. I was a little slow on learning techniques and strategies and when I started going out to tournaments it was hard and I was always scared going against other skilled players."
Still, excelling in a sport means nothing without a real passion for the game. Park found her love for golf through the many tournaments she competed in. The rigor and suspense, as well as the technicalities and deep thinking that almost define golf appealed to Jamie's personality and gave her the will to become the best she could be. But most importantly, Park found a community of bright and welcoming girl's through high school, and with the support of her golf teammates and friends, she was able to love the game even more.
"Something that made me invest in it more were those tournaments because I wanted to be good at it and eventually win, which I did later on," said Park. She continued, "Something I appreciate the most while golfing is being a part of a team. When joining high school golf, I loved playing with my peers and forming friendships along with so many memorable memories."
In the seven-year span of her golf career, Park has achieved a number of awards and positions, including second place in a Junior Developmental Tour (JDT) tournament, being the captain of the Ayala golf team, receiving the Rookie of the Year award in ninth grade, getting the Most Valuable Player award in twelfth grade (along with many letterman patches), scoring a personal record of 77 (three over) at Los Serranos for the Southern Section CIF tournament, moving onto the first team of individual CIF three out of her four years of high school golf, and being the number one player her senior year with an average of 42 (six over) on nine holes. 
Park's numerous successes were only possible through the experiences and people intertwined with the game. She recollects, "Throughout the years of golf, I've learned how to adapt whether it were different courses or people I met. Golf-wise, I began shooting lower scores and my progress helped me keep going/practicing."
Through the pressure of executing good scores and playing well for the team, Park also exceeded the typical expectations of being a captain. She used her organization, communication, and skill to benefit her teammates, showing her selflessness and strength as a leader.
Unanimously agreed on by the team, Park was not only a proficient golfer, but like every great athlete, she was a diligent teammate with aspirations to make the team increasingly skilled, establish a better community, and keep them up to date with upcoming events. 
"Jamie was a really good captain," recalled Malaya Csupak (11), Jamie's close friend and teammate. "She knew how to communicate with the girls and she always was up to date with what was happening such as our golf schedule so if we had any questions we could easily ask her. She was also very open with us. She acted as an older sister to me and the rest of the girls and I think that really made us all closer. Jamie was a good teammate because she always helped us with our swings when we asked or even if we didn't even play with her on the course she would help us." 
With the girl's golf season at a close for the 2022-2023 school year, Park's duties as the co-captain were temporary, yet the friendships that she gained and built during her four years on the team have made an impact on not only herself, but her teammates as well. 
Through the friendships came exciting memories on and off the course. Whether it was a silly joke, embarrassing moment, or a profound achievement, she shared these experiences with the golfers she felt most comfortable around.
Priya Devine (9), an avid golfer and close teammate of Park, looked back on the fun times she spent with her and shared, "A fun experience I had with Jamie was playing 18 holes with her in a cart! We…almost died twice from her driving but that's what made it fun!"
Park boasts an incredible golf game and GPA, however is still unsure of specific plans concerning golf for the future. Although unsure about pursuing collegiate golf, she is positive that she will join club golf to grow her skill and meet new people who also love the game of golf.
With Park's senior year slowly coming to a close, she leaves an important piece of advice for not only aspiring golfers, but anyone hoping to achieve their dreams– "Set attainable and reachable goals!"