2nd Annual AP Rush helps underclassmen choose what path is right for them
On January 19, Ayala High School held their annual AP Rush event during lunch where past and currently enrolled AP students encouraged and motivated students to embrace a more challenging academic course. 
Advanced Placement or AP courses, enables students to take college-level classes to earn college credit and raise their Grade Point Average (GPA). Students stationed at booths promoted their AP course and sought to provide assistance as they informed students of the course expectations and what they will learn in the class. 
Many class representatives wore their AP shirts to further encourage students to participate as they demonstrated just how many were capable of succeeding in a college-level class.
The AP English booths attracted many students' interest and attention as the sophomores are now beginning to make the decision on whether they will take on the challenge of Advanced Placement next year.
Currently enrolled Angelina Zhao (11) shared a few of her thoughts on this class so far, "I feel it's much like English Honors, but we do a lot of rhetorical analysis. It's really fun, so I encourage everyone to take AP Lang." 
Zhao and many other students believe that taking the class will greatly benefit students in the long run, "It's super important for building your language skills and prepares you for writing your college essays. It will also help you gain information about literature."
The school's AP Computer Science and Application (CSA) class was another booth that gained crowds of captivated students. The representatives implemented the use of interest sheets to collect the signatures of students who were interested in joining the class next year.
Previously enrolled AP CSA student Gavin Rivas (11) invited many students to check out their booth and enthusiastically welcomed them to join the class, "It's really entertaining and a really fun class. I encourage everyone to join. You get to work with a lot of great people and learn under great teachers. You will be learning how to code in several different languages, depending on which class you take." 
Rivas says the best part of the course is that all students can "learn to become a leader and how to become a boss."
As an AP student, students will get trained, develop skills necessary for college, and will be given the chance to dive deeper into subjects that will benefit their career paths.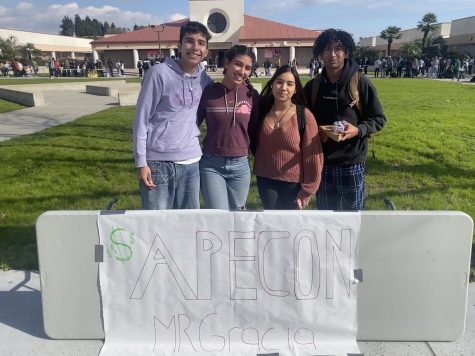 "If you're really interested in the economic world, you can dig deeper in this class. It's a fantastic class and it will significantly help you," AP Economics representative, Carol Nasr (12) said.  
By and large, students were encouraged to challenge themselves in taking an AP class as most classes will not be as difficult as they expect and many have shown their capability of succeeding. While they do have higher expectations for students and require additional energy, both previously and currently enrolled students have said that the classes were well worth the time and effort.