Athletic training: how Sofia Salas found her purpose on campus
Sofia Salas has anything but time on her hands. Similar to the rest of the student body at Ayala, this junior is involved in numerous activities outside of school, and even voluntarily partakes in the academically competitive environment. But what differentiates her from the rest of her high achieving peers? Salas is one of the few dedicated athletic trainers on campus. 
At any point in any given sport, she is ready to run into action, willing to tend to any athlete's physical needs. For the past three years of her high school career, Salas has had a purpose, pushing her to keep going, even throughout the hardest times in her life. 
"When I started as a freshman, I was in a place in my life where not much was consistent and so being able to feel needed and of high demand helped me rediscover my self worth," Salas said. 
With the dedication that comes with being an athletic trainer, she has had to close the chapter of her swimming career. Salas shares that she struggles with balancing the life of taking care of her fellow student-athletes. 
"I wake up to my alarm around 4:30am and start school at 6:15. Football games start at 7pm and goes until 9:30pm, unless there are any complications like injuries or admin issues. Our bus will leave around 10:30pm and get to Ayala at 11:30pm. I can finally go home around 12am," Salas said. "Unfortunately I'm not an average AP student, I'm quite literally the worst. I'll get a portion of my homework done within 4 hours, leaving about a half an hour to sleep before I wake up again at 4:30am." 
Others clearly recognize her commitment to this high school profession. 
"She is eager to learn, willing to put the time and energy into the program," head certified athletic trainer Kayla Wille said. "She will always go above and beyond." 
Being a trainer isn't as simple as it seems. It is definitely much more than standing on the sideline, getting water ready for the athletes during their time outs. 
"[You need to] work well under pressure, follow directions exactly, and stay calm in stressful situations. It's very important to show professionalism while being approachable," Salas said. "You have to be okay with being hated sometimes."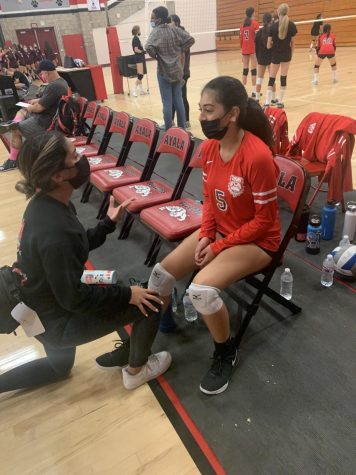 Her fellow athletic trainers all know how serious this job can be. 
"She is very assertive and knows what to get done," senior athletic trainer Amelia Bounpraseuth said.
Spending time with athletes, knowing that one accident can lead to the end of their career, is mentally tolling. As an athlete, Salas empathizes with her peers that dedicate so much energy and time into their respected sport. At times when her schedule feels overwhelming, she turns to her favorite support system, boyfriend, Dylan Victorio. 
"Everyday he gets me up and makes sure I get everything done and uses tough love," Salas said. "He takes my mental health as seriously as he does his, and he knows that forces me to start taking it seriously too. I hope he knows how much he does for me." 
Even with all the energy she pours into athletic training, Salas is forever grateful for the opportunities outside of school that she has encountered, and the bonds that she has made with all the sports on campus. Most importantly, she is thankful for the lasting friendship between herself and Wille. 
"She inspires me every day to go further in what I already know. Kayla has taught me the importance of professionalism and liabilities. She will never cease to amaze me in all the intricate things that she takes into consideration being an ATC," Salas said. 
The light that Sofi Salas radiates is contagious to everyone she encounters. Never failing to crack a smile on someone's face, she has big goals in life and wants to continue this study in college. 
"Four years ago I felt unimportant in the life of others, as if I was going on without a real reason. I would tell myself to keep going because soon I would find a profession that gave me my sense of purpose. I would give myself hope."