Clubs of Ayala: Outreach for Christ
OFC members find community and grow in their faith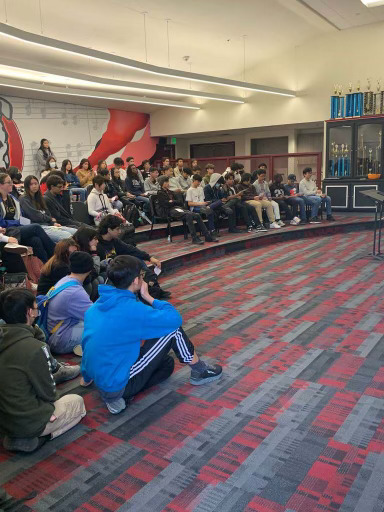 In an area of life where it is all hustle and bustle, meeting strict deadlines, and trying to overcome the stress of homework, it is important for students to find a time to relax with a welcoming group of high schoolers and grow deeper in their shared faith. 
Led by Samantha Fong (12) and advised by Ms. Karen Rosa and Mrs. Joy Rouchon, Outreach for Christ (OFC) provides this opportunity once a week through its warm community, guest speakers, fun activities, outreach events, and inviting leaders.
With records dating back as far as the opening of Ayala, OFC was made with the goal of inviting students of any religion to fellowship and learn more about the Christian faith while reaching out to the school and giving others the chance to learn more about God. OFC is welcome to anyone and everyone, whether a believer or non-believer,  and the people are more than willing to accept whoever is interested in joining with open arms and true excitement.
The club currently consists of approximately twenty devoted members and their meetings of worship, prayer, teachings, and discussions are held every Thursday during lunch in Ms. Rosa's room (H117). There, the students and teachers can share their faith and find a closer relationship with each other and God. 
Ms. Rosa expressed that "being an advisor for OFC has been a good experience for me as a person because it is encouraging to see teenagers developing their beliefs and faith when there is so much negative out there. It has also helped to develop my own faith as a Christian during club meetings by hearing students learning about God's encouraging word and knowing that God has answered prayers for club members."
OFC's community is built through not only welcoming students and teachers, but through the events and activities they provide to the school. The club partners with the Decision point organization, a Christian association which helps to organize events on campus, such as the "Light of the World" and "Meant for More" outreaches from earlier this year.
Some smaller, yet still impactful club activities in OFC included a Bible Trivia with candy prizes and a fun game involving student introductions and yarn. 
Bernice Amaziah (9) recalled, "My favorite event of Christian Club was when we did the Bible Trivia questions before Winter break!" 
Amaziah dominated the game, using her knowledge of the Scriptures to bring her team to victory. She then continued, "The community encouraged me to read the Bible more and to get a better understanding of it and as a first year member, I like how the Christian Club is very engaging and welcoming to all people."
Through OFC, the students grow closer to God in a deep and connected way via the weekly devotionals and lessons. They are currently studying and exploring God's will through verses and stories in the Bible. The students have also taken upon the difficult, but rewarding task of memorizing weekly Bible verses, like Jeremiah 29:11 and Proverbs 3:5-6, for a closer connection with God and as a comforting reminder of their faith. Past lessons included Family and Community and Staying Rooted in God's Word.
Through the Gospel teachings, Jessica Surjadi (11), a member of OFC said, "This club has helped me grow my faith through the use of making time for God during school [and it] helps me make time for God during school because of the devotions we do as a club and the testimonies we hear." 
In addition, OFC's worship team, led by Kevan Chi (12), begins each meeting and leads the community in a time for reflecting and praising God. The group plays and sings a song that holds deep meaning and relates to the lessons and scriptures that the club explores. The meeting ends with a prayer said by one of the officers to close out the session and thank the Lord for a time of fellowship.
Outreach for Christ, although small in number, is great in impact. Through their close, but welcoming community and Scripture-based teachings, students of any faith or religion have the opportunity to deepen their belief, or learn about God, and outreach Christianity to Ayala. 
"God's timing is different for everyone," Fong said. "Although everyone is in a different stage of their walk through faith, community makes us stronger. The community of God is full of love, and being able to praise and serve God is a blessing that we get to share!"