Varsity Baseball sneaks past Claremont in 9 inning thriller
Bulldogs lose lead late but battle back in extras
Ayala varsity baseball faced off against Claremont on a Tuesday night matchup a game removed from Ayala's thrilling 6-run 7th inning comeback for their 11th win of the season. Claremont was coming off of a walkoff win of their own, a 4-3 win against South East in 8 innings.
Junior Bryan Yang got the ball for the Bulldogs in their 3:30 game against the Wolfpack and went 1-2-3 in the first on one strikeout. Ayala threatened in the bottom of the first with a walk and 2 hit-by-pitches (HBP) but a 5-2-3 double play with the bases loaded prevented a run from scoring.
Yang worked around a one-out walk for his second scoreless inning, allowing senior Jake Lemoine to rip a double to lead off the bottom of the second. After a flyout to right, junior Matthew Yarc ripped a double to left center to plate the first run of the game. Senior Marcus Galvan got his second at-bat at the top of the lineup and singled in another run after an error in right allowed yard to score. Galvan would get caught stealing third to end the inning.
A strikeout and two groundouts lended Yang another scoreless inning and a strikeout total of three in three innings.
The bottom of the third saw sophomore Aiden Erlandsen striking out in front of two walks and a single to load the bases. Lemoine came up again, this time with the bases loaded, and sunk a single behind third to drive in another run. Sophomore Thomas Estepa popped out to the second baseman in foul territory and Yarc popped up to short to end what had looked to become a big inning. Bulldogs led 3-0 after three.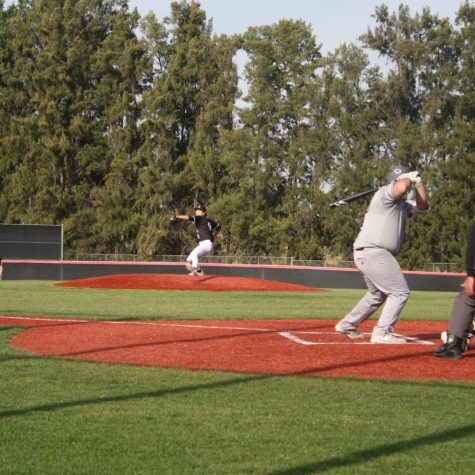 Things started to unravel in the fourth when Yang allowed a single and a double, both of which scored on a groundout and a sac fly to right. Yang struck out sophomore Thomas Plotkin to end the inning with 2 runs scored and a deficit cut from 3-0 to 3-2.
An infield single from #9 hitter Anthony "Jedi" Hernandez did not come around to score after a popout to short, a baserunning mistake erasing a single and a groundout to second. Ayala missed an opportunity to tack on runs with a recently diminished lead.
Another HBP led off the fifth for Yang but he was able to work around it to bring his strikeout total to five through five innings on only two runs.
Ayala seemed like they had started to pull away in the bottom of the fifth, with a double from junior Andrew Torres leading off what would be a long inning. A groundout to second moved Torres to third before Lemoine secured yet another hit on the day to drive in a run. A double from Estapa put runners on second and third before Yarc hit into a fielders choice out at home to prevent a run from scoring. Hernandez secured another run on a single over short to put runners at first and third. The lineup flipped over for Galvan, who doubled to center to plate two more runs. Erlandsen would hit a single that advanced Galvan but would nothing else would come in the inning. Bulldogs had a new lead, 7-2.
Claremont would respond right away with two outs after a double and a walk set up a long home run to left to cut the lead to 7-5. Yang got a groundout to short to end the inning before any more two out chaos.
Junior Ryan Dorman entered in the bottom of the 6th to try to keep the deficit where it stood. His first 3 batters would go directly against this attempt. A walk to Torres, a single to freshman Caleb Trugman and yet another hit for Lemoine plated a run and put runners on the corners for Estapa. He would end up popping out to shortstop on the first pitch before Yarc dropped a single to load the bases with one out.
With ducks on the pond for Hernandez, he wasn't able to produce. A comebacker to the mound was fired to the plate before Claremont catcher got the force out at first to end the inning with, yet again, only one run scored. Ayala had hit into a double play with the bases loaded and one out in the first inning, and picked a bad spot to repeat the play in the sixth.
Senior Jeremy Byers would get the ball in the seventh to try to end the game with a three run lead. A walk to the first two batters of the inning made it look like it wasn't going to be easy. Runners interference on an attempted bunt got Byers an out closer to ending the game without advancing the runners. A deep flyout to center field was even more convincing. Unfortunately, this would not be the end. Two singles created chaos around the field to score 2 runs and cut the lead to one. With 2 runners on, sophomore Wyatt Green for stepped up for Claremont and hit a tapper past the mound. Byers dived to stop it and had a split-second decision to make about whether or not he would attempt the out at first or hold on to it. He did not hold on to it. From his knees, he attempted the throw to first and sailed it past Lemoine at first to allow both runners to score.
This would be the last batter Byers was allowed to face. Senior Cadin Gates came in with 2 outs and got a strikeout looking to strand the runner at third. Ayala had some work to do.
Galvan led off the bottom of the 7th and hit into an unassisted groundout to start the inning. Erlandsen singled to right to keep hopes alive, for now. Senior Ethan Nuñez had a quick at-bat, flying out to left to leave Torres with what he was hoping wasn't the last batter of the game. It was anything but. Torres would get a fastball up and out of the zone but relied on pure skill and power to drive it off the wall in left center to plate Erlandsen and tie the game down to their last out. Trugman grounded out to second to end the inning.
Gates came back out for the eighth and couldn't have had it any easier. A groundout to short, strikeout looking and lineout to left gave Gates, and the rest of the team, a stress-free eighth inning.
Ayala would get close in the eight with 2 walks but would end quickly with another unassisted groundout to first from Galvan.
Once again, Gates would come out to try to keep the game scoreless in the ninth. He would do just that. Another groundout to short, flyout to right and a strikeout looking were enough to work around a two-out single.
Very quickly in the bottom of the ninth, Ayala would get their chance to end it in extras. Erlandsen doubled down the right field line and ignited roars from the dugout, ready to storm the field in a walkoff win. Nuñez would come up to hit one more time and on the first pitch, hit a flyball high into the air to center. What looked like a long run for the center fielder ended up being a diving play that he would not complete. Erlandsen flew around third and scored after almost 3 hours of tense baseball to give Ayala their second straight walkoff win.
Ayala will visit Claremont Thursday the 20th for what Ayala hopes will be continued hot streak and for what Claremont hopes to be a bounce back and revenge game against Ayala. Claremont will play Alta Loma twice to end their season and Ayala will play Glendora twice to end their own.
Final box score:
Claremont: 0 – 0 – 2 – 0 – 3 – 4 – 0 – 0 : 9
Ayala: 0 – 2 – 1 – 0 – 4 – 1 – 1 – 0 – 1 : 10
(W) – Gates (12) – 2.1 IP, 1 H, 0 ER, 3 K
(L) – Miller (9) – 2+ IP, 4 H, 2 ER, 2 BB, 0 K
Lemoine, J (12) – 4 for 4, 2B, BB, 1 R
Torres, A (11) – 2 for 2, 3B, 2B, 2 BB, HBP, 2 R
Erlandsen, A (10) – 4 for 6, 2B, R, 1 K
Yarc, M (11) – 2 for 5, 2B, RBI, R