Seniors honored in Varsity Baseball blowout of Glendora
An almost too-familiar scent filled the air for the parents of the seven seniors, five of which had their fathers take the field to throw out the ceremonial first-pitch. Every player is equally important to contributing to a win, but tonight? Tonight, the seniors had the stage.
Regarding the impact of the celebrated seniors on the entire team, varsity baseball head coach McGuire said, "Our seniors have done a good job of picking the younger guys up, and it's been good. They've taken them under their wing and they're all playing solid together."
And playing solid they are, coming into the game riding a four-game win streak that they hope to make a five-game streak after their Tuesday matchup against Glendora.
On the mound for the Bulldogs was junior Jeremy Byers who worked around a leadoff double to kick off the game with a scoreless inning. In the second, Glendora plated a run to get an early 1-0 lead.
Ayala had nothing on offense through two innings.
Byers got through the third with no damage to allow the Ayala offense to get back to work. Senior catcher Marcus Galvan, in one of his last game as a high school athlete, led off the third with a no-doubt home run to right field to tie the game. As his bat twirled in the air, his triumphant trot put a charge into the Bulldog's home dugout.
Three straight singles scored another run for the lead before a walk reloaded the bases. Senior Evan Ellis of Glendora was removed from the game and replaced with junior Mizuki Williamson. After a sac fly and a fielders choice/error scored two more runs, junior shortstop Matthew Yarc hit a comebacker to the mound that was flipped to second and and thrown back to first for a 1-4-3 double play. Four runs in the inning put Ayala up 4-1.
Byers would battle through 5 innings despite not having started off at a great pace with pitch count, ending his outing with the following final line: 5 IP, 4 H, 3 BB, 1 ER, 4 K.
Empowered by Byers' strong outing, Ayala decided to put on their hitting boots in the bottom of the fifth.
With runners on second and third with one out, Yarc came back up with runners in scoring position (RISP) and laced a single to score two runs; Ayala now led, 6-1.
Left-handed junior Gage Gerszewski came in to relieve Williamson and, by the looks of his warmup pitches, would have quite the adventure trying to do so. 
Anthony "Jedi" Hernandez singled to put Yarc at second, only before two straight walks allowed a run to walk home. Senior centerfielder Ethan Nuñez, one of the biggest bats for Ayala in the past few seasons, came up with the bases loaded and demolished a baseball to right center field for his first home run of the season, and how else but in grand fashion.
"I wouldn't be shocked if Thursday there's another, and [again] on Friday," said McGuire. "That might have been the relief, because senior year people some people try to press a little bit but him hitting that home run was big for him."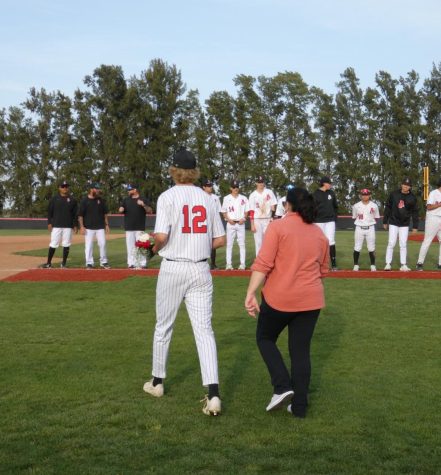 Immediately following Nuñez's grand slam, senior Enrique Ybañez got a chance pinch-hitting for junior Andrew Torres. He didn't waste his shot. Ybañez pummeled a line drive to left center, almost exactly where Nuñez had just hit his home run, and had it bounce off the wall. Flying his way around the bases, Ybañez legged out a triple to keep the inning alive. Trugman was hit by a pitch before Gerszewski seemed to figure it out and strike out two batters looking consecutively.
The bottom of the next inning, the game was far enough out of reach that both Sebastian Oliva and Cadin Gates, senior right-handed pitchers who had not pitched that day, were able to get appearances at the plate. Neither produced a hit, yet the dugout was somehow louder than it had been all game.
Senior right-hander Aiden Nuñez came in for Byers and in two sound innings, secured the last out of the game on a swinging strikeout.
Ayala faces Glendora again on Thursday for what they expect to be a battle for the 1-seed in the Palomares league going into CIF play. Bonita possessed the same record as Ayala at this point and will either try to force a tiebreaker or win the league altogether on the same night.
For Ayala, however, their focus after the game was on the seniors who, by the mud on their cleats, fought every day to win and prove to themselves and any onlookers that they deserve the spot they were put in.
"Whatever happens happens, you know we really want to go out there and win League and shock kind of the whole baseball world that had negative opinion on us," said senior Sebastian Oliva. "We didn't really care about ourselves, our own personal stats we just really wanted to play as a team."
Final box score:
Glendora: 0 – 1 – 0 – 0 – 0 – 0 – 1 : 2
Ayala: 0 – 0 – 4 – 0 – 7 – 0 – X : 11
(W) – Byers (11) – 5 IP, 4 H, 3 BB, 1 ER, 4 K.
(L) – Ellis (12) – 2+ IP, 5 H, 4 ER, 2 BB, 1 K
Notables:
Nuñez, E (12) – 2 for 2, HR, 4 RBI, BB, 2 R
Galvan, M (12) – 2 for 3, HR, RBI, 2 BB
Gates, C (12) – 0 for 1, K