Ayala Cross Country works the course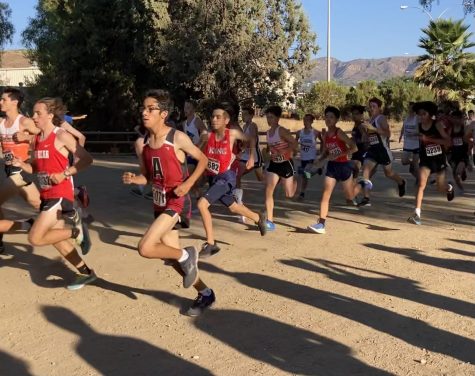 Over the weekend, the cross country team flew through the dust at the Fastback Shootout course at Mount SAC, and the boys cross country team came in first place with a sixty four point lead. 
The team had planned to continue the tradition of racing at Great Cow in Cerritos Regional Park, but due to misconduct within different teams causing those parks to shut down, Ayala found a different way to start the season. Even training is affected with the constant course of new protocols. 
"First of all, we just go to practice on Monday, Wednesday and Friday in the mornings, and then we do PM runs, Tuesday and Thursday," Freshman runner Jacob Sydnor said. "And we do core and abs on Monday, Wednesday and Thursday. Or Monday, Wednesday and Friday." 
On September 4, the junior and senior boys each won their own races. With so many runners during the current COVID climate, there have been various challenges when it comes to race day or even training. 
"You have to think about how you're gonna adapt each day to whatever the new expectation or regulations are," Head Coach Tony DiMarco said. "I would say right now we're no different than we were in the past, just the day to day life, it's a little changed. If you asked me that question last year it would have been different."
At the meet, there was a strict mask mandate, which was targeted amongst athletes, only allowed to take off their mask when they had started their race. Regardless, athletes always find ways to have fun. 
"It's been really good, really fun and eventful," Sydnor said. "We are all pretty fun." 
It is common for runners to spark conversation with other athletes during their warm up or cool down runs, at the race specifically discussing how dusty the course was, but they often can relate to a common struggle. Running is hard, and training to be the best runner they can be is even harder. 
"I would say the only negative is getting up at five forty five in the morning," Assistant Coach Paige Simmons said, "but the highs would be seeing you guys improve, watching you run everyday. It's pretty cool."
 If one listened to the conversations at the starting line before the athletes took off, their goofing around could be enjoyed, and their encouraging words admirable. Once that gun goes off, everyone races for first. 
"Hopefully we'll make the state meet," DiMarco said.