Prom night reunites students in post-pandemic festivities
For the first time in over two years, the upperclassmen at Ayala readied themselves for a traditional prom, which was hosted on May 7th. While there was a small prom last year, COVID restrictions limited the amount of guests who could come and made it only available to seniors. As this was the first event for both juniors and current seniors, it was one to remember. 
Students spent weeks planning their prom looks: buying dresses, renting suits, and even getting party buses in preparation for the night of the year. After changing locations, the Cerritos Center for the Performing Arts was filled with activities including air hockey tables, arcade games, a photo booth, and both an indoor and outdoor area for dancing. Topped with DJs and a dessert bar, students had multiple options when it came to what to fill their time with. 
"Instead of being in a parking lot and everything being far from each other, the new location allowed everyone to interact with others a lot more easily," junior Priya Patel said. "I met a lot of people that I haven't seen in years from other schools, and people were really supportive of each other which was my favorite memory."
While the theme of prom was meant to resemble Vincent Van Gogh's iconic Starry Night painting, the venue and its patrons failed to mirror any of its characteristics. However, some students did pull their style inspiration from the Met Gala, which was broadcasted on May 1st. 
"My hair was inspired by Gigi Hadid's look," sophomore Madi Kaylor said. "My front pieces were slicked with teasing on top and curls in the back. I had pearl clips to tie in the pearls on my makeup and jewelry."
This year, many underclassmen joined in on the fun. While it is a typical rite of passage to wait to attend prom until junior year, upperclassmen had the opportunity to invite them with their use of a guest pass. 
"I chose to go to be able to make memories with my best friends," Kaylor said. "Since they're a year older, I'd only be with them at my junior prom and since every prom is different, I made unique memories that were a once in a lifetime opportunity."
While many students did attend prom with their friends, many even went with their significant others. For seniors, these couples had the opportunity to be nominated to be part of the infamous prom court.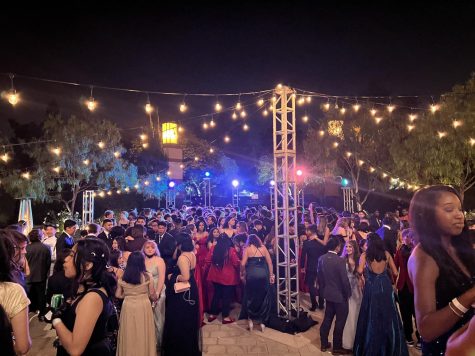 "My friends thought that it would be super fun if me and my boyfriend of almost three years were able to get that experience together on a court," senior Kylie Kramer. "All of my friends and others had decided to vote to get me and him on it, the goal was not to just win, but to be able to have the experience."
While moshing, dancing, and singing were all part of the evening, the night died down rather quickly, and most students left before the end time was officially called. Many were very content with the night and were most certainly glad for the change of location. However, there were some tips from students that can be implemented for future references. 
"If there were healthier food choices than just dessert, it would've been great," Kramer said. "I know there are some people that either struggle with what they eat or for health reasons cannot eat [the types of] dessert." 
Throughout the night, there was an exorbitant amount of waste being produced. With single use plastic cups and everything being individually wrapped, there could have been more environmentally conscious decisions being made. 
With an ending to a memorable night, returning students have a lot to look forward to for next year's prom.