Klatch Coffee stays authentic throughout Southern California
Katie Cheng, Social Media Manager, Managing Editor
February 9, 2023
With 7 different locations across Southern California, the family-owned coffee shop, Klatch Coffee, has shared its love for coffee in the best way they know how by being authentic.
Opening right at the crack of dawn at 7 AM and closing right a little bit before the late-night parties begin, Klatch serves as the home to those looking to get through their checklists, enjoy a drink with friends, or even take time for themselves.
Running the show is the Perry family, a team of competitive baristas who have utilized their scientific knowledge and skills to craft the perfect drink. All of their coffee is roasted, sourced, and brewed in-house to make sure each beverage is crafted to their standards, right down to the molecule.
"Coffee is incredibly scientific. It's all about water temperature and solubility. It's all about grind size; it's all about time. I mean, coffee and science go hand in hand together," Heather Perry, Chief Executive Officer of Klatch Coffee said.
Each of the shop's locations carries its unique characteristics and traits, all carrying the same goal of giving back to the community through their drinks and services. At the moment, they have locations in Rancho Cucamonga, Ontario, San Dimas, Redondo Beach, Pasadena, Fontana, and of course, Chino Hills. At these locations, events including coffee tasting, open mics, and pop-up stands can be seen held all year round.
"The stores are like siblings, where they all belong to the same family," Perry said. "They're all very unique. And the customers who go to each of them are unique as well."
These customers often alter the store they visit to cater to what they're in the mood for. Locations like Rancho Cucamonga have been described as "a rustic atmosphere," by reviewer Annie H. on Yelp. While in Chino Hills, students like Junior Frances Hu have described the location as "a warm and homely feeling… whenever I study at Klatch, I always feel calm and studious.".
With their constant outlook for growth and expansion to serve other communities, they always aim to stay true to their companies' values and maintain their authentic coffee flavor and thematic atmosphere in each shop. Their process of opening up a shop at a new location always includes the consideration of the community that they're entering. One of the ways that they make sure that they're not intruding on the new city that they're entering is by considering their strengths and weaknesses and how they're able to utilize them to their advantage and help the community. By doing so, they're able to create a stronger plan for how they're going to impact the community rather than just joining it and operating based on their own accord.
"I think what makes us unique is that what we do in each of our communities is unique to what that desire might be that we can fill," said Perry.
A part of their way of giving back to the community is by acting as direct trade partners and aiding with the construction of several buildings and farms outside of California. Their team with El Salvador has allowed them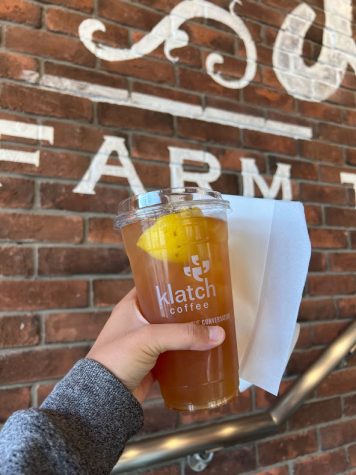 to see the El Salvador La Vila Medium roast to families in California and use a portion of those funds to give back to their communities.
"We're involved in building medical clinics because that's what [El Salvador's] community needs," said Perry.
In the past, they have also worked with the city's Chamber of Commerce to put on community events, served beverages to teachers, and even planned on doing a coffee-making lesson to help teach a high school chemistry class the science within water and coffee that concludes with a coffee making competition at the end of the lesson.
"They're going to do all their experiments. And I'm going to come back to judge to see who can make the best AeroPress coffee on the last day," said Perry.
High school students have found these environments great places to study and relax. Their Chino Hills location has served as one of the homes for Bulldogs' to study and relax as they conclude another day of classes. The less than 20-minute walk over makes it a convenient place to wind down. When you get there, the shop is packed with an outdoor seating area and a 2nd-floor seating option for those who enjoy watching from above.
Whether you're looking for a place to spend your late nights studying, or spend some time with friends, be sure to check out Chino Hill's very own Klatch.