Madrigal Feaste: behind the scenes magic
Tickets for Madrigal Feaste may be purchased at https://ayalahschoir.ludus.com/
Madrigal Feaste, also referred to as Mad Feaste, is a 4 day event held from December 1st to 4th by choir.
Mad Feaste is a 3 hour long dinner event, in which a story set during the Renaissance Era is told whilst food is being served. As well as a story being told, the choir will perform traditional songs between each meal, reminiscent of the time period.
"We are going to be performing really traditional songs like 'We Wish You a Merry Christmas,' 'Hallelujah,' and 'Silent Night,'" said sophomore and soprano two Hailee Gapasin Flores, "Everyone should come if they can, we've been working really hard to perfect these songs."
This year, the choir is excited to host the event in the multi-purpose room, as precautions due to COVID-19 previously prevented them from performing in indoor spaces.
"It feels amazing to have our choirs performing Mad Feaste together again. Having to do performances online last year was tough in so many ways," said choir director Robert Davis, "There is nothing that beats singing together, and our Madrigal Feaste is particularly special."
Choir students have been preparing rigorously for the 4-night event, individually as well as a collectively, including painting and putting together sets for the event, appropriate for the show's setting and time period.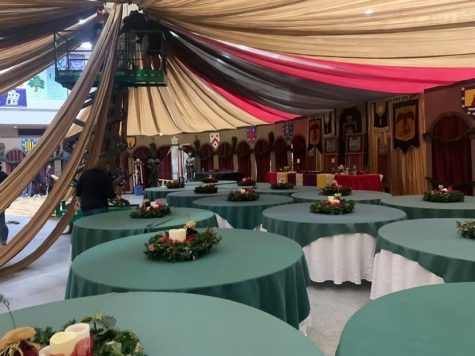 "We have been practicing our songs and setting up the scenery and decorations for the play portion," said Gapasin Flores, "Seeing everything come together has made me excited to perform."
In addition to a story being portrayed live on stage and choir performing songs, Mad Feaste will also feature a 5 minute opening dance routine, choreographed by dance teacher Christina Hofstetter. The dances are those that resemble dances from the Renaissance Era.
"I enjoy dancing and performing, which were my motivations for signing up to dance," said freshman Joy Zhu.
Dances featured in Mad Feaste include an opening number, a group circle dance, a clap-centered dance in which dancers will dance around audience tables, and a finale dance.
"I enjoy every single dance that we are performing at Mad Feaste!" said Zhu, "I like how we [dancers] are all cooperating and working together as a group."
Overall, Mad Feaste is an event that the choir has been putting an immense amount of time and effort into making the experience as immersive and entertaining as possible. Choir is encouraging those who haven't purchased tickets to purchase them for the upcoming event, which has already sold out multiple days.
"We are about to sell out our 4th of 5 shows. It really is something special with music, dancing, acting, and a full 3 course meal!" said Davis.