FindKind expresses gratitude through Thanksgiving goodie bag event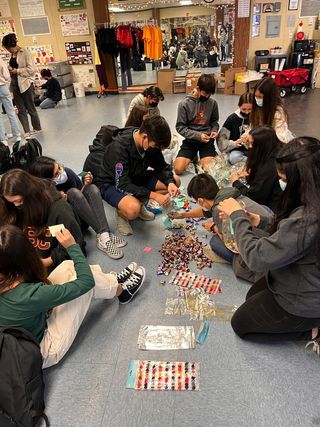 Chatter fills the room, filling the air and matching the members' quick movements as they assemble stickers, candies, and pre-written sticky notes into their goody bags. They tie them up as they finish them, still chattering and discussing among each other. The bags, however, are not for them, but for the essential workers of Chino Hills. 
As a way to show appreciation to the various essential workers that live in Chino Hills, members of the FindKind club assembled goodie bags and gave them out to small business workers, firefighters, healthcare workers, and more. Later, they posted videos of themselves handing out the bags to demonstrate their theme of gratitude for November. 
For the members of FindKind, gratitude is an important way to show kindness to others, especially to those who sacrifice a lot for the community but are often overlooked. One member, who gave her goodie bag to a teacher, said that gratitude was something that "shouldn't just be done to a family member or a friend, but also to those who take care of you without you knowing."
"I felt really good when I gave my bag, and it was really fun to make with my friends. I think this ties into FindKind's mission because FindKind is about caring, and giving someone something tells them that you care about them," she said. 
One member of the club chose to give hers to a nurse who worked at her mom's hospital. 
"I wanted to say, 'Thank you for taking care of sick people even though they could get sick themselves,'" said another student, who wished to remain anonymous.
Throughout the month of November, Find Kind has taken part in various activities to show the importance of showing gratitude, including their food drive donation which took place at Canyon Hills Jr. High in partnership with the non-profit organization Food for Life, which aims to provide families in need with full meals every Thanksgiving.
"For me, gratitude means appreciation for kindness and cherishing what you love and who you love," Elaine Xu (11) said in FindKind's Instagram Livestream. "It's more than just a feeling. It's a series of events that bring people together. It can also be an act of everyday kindness, so it's not very limited to one thing."