Elaine Xu: Girls Tennis Varsity Captain Leads her Team to Victory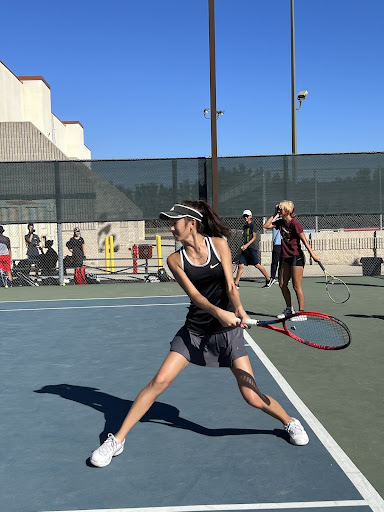 As she entered the tennis courts for the first time, she sensed a heavy atmosphere within the two competitors. Watching them play with all their efforts, Elaine found her interest in Tennis at a year round city program when she was 7. She had always played for fun rather than taking tennis seriously until she reached 7th grade. She worked her way up to the tournament academy which was the adult level for tennis. When Elaine reached 8th grade she decided to take tennis seriously so that she could prepare for high school tennis. She made varsity sophomore year and is currently the Girl's Tennis Varsity Captain. 
As her first year being varsity captain, she felt a sudden heavy burden of leading her team. Some of her responsibilities entail organizing the team schedule, discussing finances with her coach, leading warmups before tennis matches, and encouraging fellow teammates to be motivated during practice. These are the essential responsibilities that she must take for the team as a captain. This year, Elaine states that  she is looking forward to seeing her teammates' individual improvements more than as a collective group. Bus rides are also something to look up to as it builds a sense  of community and family within the girls' tennis team. They blast music in the bus and karaoke on the way to and back from games, sometimes even watch movies.
Her personal hobbies outside of tennis include a more calming atmosphere such as art, reading and piano. These hobbies are quite contrary from what you would expect her to like according to the sport she partakes in. She likes to contrast her already physically demanding sport she partakes in during her free time instead of stressing her body more.
Elaine predicts that this year the team will be able to make CIFs and with a little more practice, she hopes to make an unstoppable team. However, she says that sometimes "They need to eat some passion fruit" since they don't seem passionate enough about practice.
She sees the potential in her fellow players and wants to ensure that by the time the current seniors are gone, the underclassmen could maintain the tennis girls' status. Her motivation for tennis can be evidently seen through her many duties that she stands by. One of the most important things that she encourages with her team before a match is doing mini rallies as a team to build spirit.
At the moment, Elaine has no intentions of being scouted nor playing college tennis, and would rather prefer club tennis in the future because of the time and dedication it takes to participate in college sports.