[Review] The Maidens: Murderers are the People Closest to Us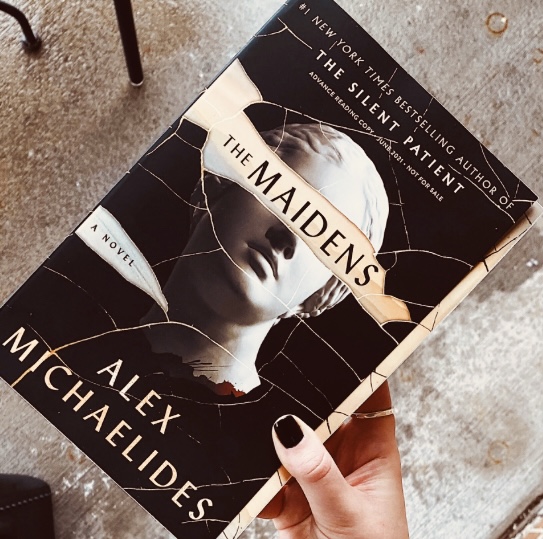 The Maidens by Alex Michaelides, published June 15, 2021 plotted in the north of London, Cambridge University, begins with a beautiful woman named Mariana, a psychologist who likes to work with adults and children. Fans of true crime and psychological thrillers would love this book.
Before the events of The Maidens, Mariana lost her husband, Sebastian, in a tragic accident. She finds herself back at Cambridge University but not for any good reason. A handsome, charismatic Greek Tragedy Professor, Edward Fosca is a murderer! Mariana goes back to Cambridge University to visit her daughter Zoe, who is found distraught since her close roommate is now dead. Marina investigates Edward Fosca and soon figures he has a group of personal followers; these women are known as The Maidens. 
In the beginning of this book, Mariana goes into her tragic accident with late husband Sebastian; Mariana and Sebastian went on a honeymoon like-trip to the beach. One night, he is eager to take a swim. Mariana, in her half-awake state, begs him to stay in bed. He's full of enthusiasm but goes and flees as the storm slowly hits the ocean. Next morning, Mariana calls out his name, to no avail as she finds his shoes on the sand. That is when she knew she lost him forever, Mariana is then found in tears, wailing and in this state of shock. She takes her time off of therapy, until she gets a call from her niece Zoe, that there has been a murder in Cambridge University, Mariana takes the time to travel from the farthest corner of London to Cambridge. Marina comforts her niece of this tragic event to only figure out that her roommate is now dead.
Mariana slowly investigates Edward Fosca and those around him. She is still troubled by her past and became a widowed woman since the tragic event. When in a predicament, she thinks of what Sebastian would do in that moment, and at that she follows her gut, her heart,  and very importantly her soul in order to be able to follow Edward Fosca to understand what he is truly up too. She finds notes in Greek which she found in one of his books underlined, which validates her suspicions, popping up in every crime scene she visits, which leads to her niece.
The book has many unexpected twists and turns, it will leave you wanting to read the next book, The Silent Patient. 
Michaelides does so well captivating me as a reader to try to understand what the main character, Mariana, is going through. Mariana is a powerful character, being a psychologist and letting the ghost of Sebastian guide her. This does not only teach love, but it shows that love still remains even though he is still gone. Though Mariana has gone through a troubled past, dealing with her angels and demons, she never proved me wrong with the right thoughts in her mind, always doing the right thing to protect her niece.
Mariana is an astonishing, independent character we can learn off of: to follow your gut and your heart is the best decision you can make.