Ayala Theater's "Clue" sets performance to a new standard
Ayala theater held their first main stage drama production of the school year, Clue on October 20-22 in the multi-purpose room (MPR). The show was an absolute hit and was able to give the classic "whodunnit" murder mystery a breath of fresh air, through its impressive acting, storytelling and production design.
Based on the classic board game, which then inspired the 1985 movie, the stage adaptation of Clue tells the story of 6 starkly different individuals, bound together not only by an invitation to a dinner party, but also through the terrible atrocities all of them have committed, whether it be adultery, bribery, or even… bloody murder. 
Early on, it is revealed that Mr. Boddy (portrayed by senior Lennard de Guzman), the cryptic host of the party who has blackmailed and invited 6 individual guests to his manor for one reason; that is, to expose them for their horrible wrongdoings and to kill his butler, Wadsworth. To the shock of everyone, the host Mr. Boddy is actually the one who gets killed, and sends everyone in the manor (as well as a few innocent bystanders)  into a maniacal frenzy of figuring out whomst among them is responsible for his death.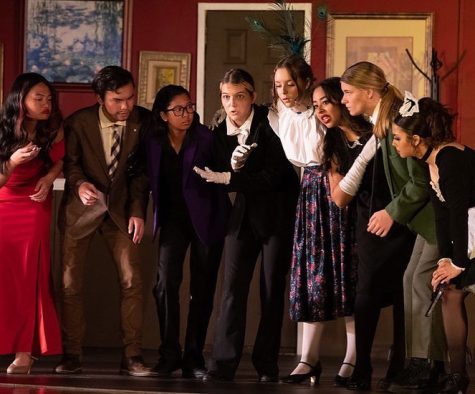 Most of the charm that exuded from this production came from the great ensemble of characters. Although the main 6 "suspects" of Boddy's murder were obviously carved out of cliche character tropes, this is excusable, and even is even used to further illustrate the absolute absurdity of the situation they are facing. From Colonel Mustard's (portrayed by sophomore Jacob Tan) utter aloofness, to Ms. Scarlet's (portrayed by sophomore Janelle Medina) femme fatale persona, truly all of the characters of Clue absolutely offer a unique and equally hilarious perspective to an even more chaotic conflict.
The actors did an incredibly hilarious job of breaking the fourth wall, giving the audience a nice chuckle now and then. The precise timing of the play impressed many people and there was not one moment where the audience felt that they were not in the show. 
Of course, the charm of the characters won't simply exist without the talent of its cast. Although small, the cast of Clue was able to give great performances overall, thanks to countless amounts of rehearsals they had to accomplish in order to perfect their roles.
For instance, Piper Lord (12) who played the crass Mrs. Peacock found a unique way to get into her role.
 "I discovered yelling 'Murder!' in the voice of Mrs. Peacock helped me get into character when I needed to be, since I did it so often in the show," Lord said.
Michaela Allen (10), who played leading role Wadsworth said that her technique used to memorize her long monologue was to, "go line by line, and then look away [after reading one] line, say the line and then looking back and reading another line and then look away and say both lines [until] the whole monologue [has been memorized]."
Likewise, the success of Clue could not be achieved without the devotion and hard work from all of the backstage staff. Though the crew members were not on stage, the spotlight they received behind the curtains was just as bright as the casts. 
Two weeks ago, the lighting and sound crew hardly knew anything about what they had signed up for. Within less than two weeks of training, the crew (made up of many first-time theater students from all different grade levels) developed a strong mutual relationship as they collaborated to bring out the best in each other. 
"[Our ushers] dressed up like a butler and maid. The [idea] for the color changing [lights] during the last call…that was all [the crew]. Everyone just goes above and beyond everything, and that has nothing to do with me. [They have] set a bar [and] there is a new standard for performance at this school now," said Mrs. Sherratt.
As this is Mrs. Sherratt's first year as a drama teacher, this is also the first production she has coordinated at Ayala. Although she may give her students all the credit for putting together this production, truly, Mrs. Sherratt has devoted everything she's got in order to ensure that Clue could be a success.
"I'm physically beat but emotionally elated," says Sherratt, "Everything's worth it." 
Ayala's first performance this year has really opened the eyes of all that have arrived and not hyperbolic, filled the entire MPR with laughter and joy for the three days that they were there. The compliments that the theater program received were beyond imaginable. 
"Mrs. Sherratt has really put her name out there," said Keira Vista (10). 
Though the play did have a few technical flaws here and there, the crew members were quick to adjust and fix their mistakes. It is inevitable that accidents will occur during live performances, but with both the crew and actors' quick on-the-spot responsiveness, nothing seemed to be out of order in the eye's of the audience.
With the performances finally coming to an end, Mrs. Sherratt and the drama department's next musical show is something to stay tuned for.
"I'm sad it's over, but also relieved and super excited for our next show," said Bailee Alejos (12).