Artist Spotlight: Jeanne Poiner
The blaring sound of heavy metal music spews out of the speakers in her room, as her hand glides across the tablet screen. Line by line, Jeanne Poiner (12) begins to create a new drawing of her imagination. Her phone rings as she receives a notification on Instagram from a customer who is asking for a commission. Putting her creation on pause she accepts it and begins work, lightly sketching out the drawing. 
Poiner is one of the many artists here at Ayala that does commissions and creates art on the daily. She started doing art from a young age and was inspired by it because of the creativity and possibilities of creations she could create. Throughout the years, her love for art grew more as her imagination became more vast and became an outlet for her. 
"Art inspired me because it's something that can create things freely from my imagination," explains Poiner. "I most definitely enjoy it as a hobby, I do it during my free time when I'm bored."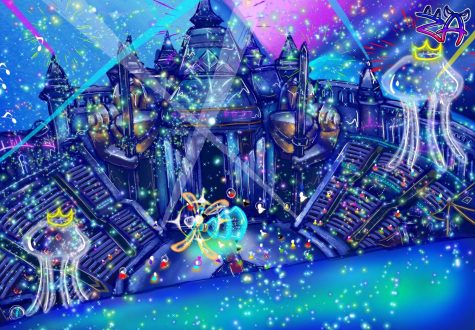 In the majority of her free time, including at lunch during school, she can be found drawing and doodling. She currently has an art account as well on Instagram going by the name Zasha (@zasha_azara). There, she specializes in mostly video game art, Pokemon, and original character styles. Not only does she present her art, but she also does commissions for those who are interested. 
"I wanted to get paid but it's something to be proud of, or feels like an accomplishment when someone wants your artwork," said Poiner. 
Though she brings her and other's imagination to life, Poiner is hesitant to decide if she wants to do art professionally. Having art as a career is indeed a difficult one because you never know if you will make a sale. However, that doesn't stop her from being persistent and determined. While Poiner isn't drawing, she can be found hanging out with friends and playing the game Sky the Journey. Sometimes she is also found relaxing while listening to some heavy metal or rock music. 
"Stay away from social media if you are getting started, sometimes you will see others and start hating your own art and compare it to others. Take some time to figure out [your art style] yourself and when you feel confident you can choose to share it on social media," says Poiner in regards to finding one's own footing in the art space.