Mr. Spellman inspires students one brush-stroke at a time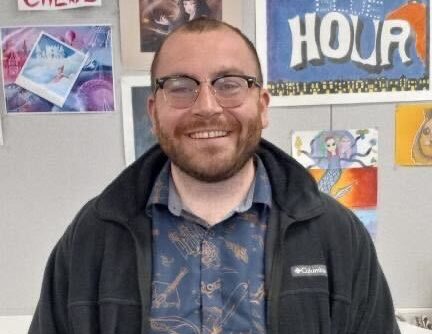 The soft glow of his tablet illuminates his face as the stylus pen glides across the screen gracefully. Line by line and color by color, the beautiful creation of Daniel Spellman's imagination comes to life. Art teacher and artist himself, Mr. Spellman is one of the well known and beloved teachers in Ayala. With his quirky fun personality and friendly attitude, many students take a liking to him.
As mentioned before, Mr. Spellman is one of the art teachers at Ayala High School. He is not afraid to stand out from the crowd and takes pride in being himself. His quirky personality and friendly gestures makes him a shining gem in this world of today. He also spreads kindness with his actions and pushes his students to do the best and embrace their inner artist. Helping students reach their full potential and unlock new skills they didn't know they had. 
As a youngster, it wasn't always easy for Spellman to express his emotions and what he was trying to communicate. Like some students, he faced many issues with communication. That's when he discovered art to help be a way for him to express himself and understand this complex world around him. 
"I had a hard time with communication whether it be with adults, peers, or friends. Art became an outlook for me. To express myself creatively even when I couldn't find the words to say," explained Spellman. "It helped me initially connect to people when I was young and understand this weird, complex world."
Not only has art become an outlook for himself, but also for others as he helped students to realize their full potential and skills in art. He became an art teacher due to his passion for helping others and helping them reach their fullest potential. Spellman finds joy and enjoyment in seeing others unlock their potential and new understandings of themselves. Whether that be in art or in life in general as it needs more genuine individuals. 
" I've always loved helping people throughout my life to see their best potentials. And the world needs more creativity in it," Spellman pointed out. "So I simply just want to try to help as many students as possible to be creative whether it be a hobby or professionally."
One of the largest joys of being a teacher is getting students to discover their creative counterpart and grow more as a person. Each and everyday he inspires students to unlock their creativity and understand themselves better. With this inspiration for art as well, Spellman finds joy in his own art as well. Sometimes doing projects for companies and creating masterpieces of designs for them. His biggest joy however would be being an art teacher and creating art himself solely for fun and helping others. 
While he is not creating art pieces, Spellman can be found playing video games, reading books, playing board games and playing tabletop RPGS. He also exercises and participates in the mystical martial arts of Muay Thai and Jiu Jitsu in his free time. Some goals he has as well for this school is to introduce digital art since a vast majority of jobs in the art industry are required to have digital art skills. 
All in all, art is Spellman's passion and what drives him in his daily life as he helps students realize their passions and potential. Every year he is blessed with the opportunity to pass on skills to new generations and bring out the best in everyone. Being one of the most inspirational teachers he deserves so much recognition for everything he does and his hard work. Also inspiring others to be themselves and not be afraid of what others think. His message to everyone: don't stop being you, for only happiness can be found within yourself and what you do.